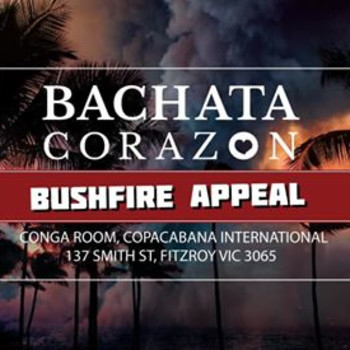 Tuesday, 21 January 2020
139 Smith Street, Fitzroy, Victoria 3065
Location:
Melbourne, Australia
Bachata Corazon Australian Bushfires Fundraising
Last edited: Thursday, January 16, 2020
For the latest description check the
Event Link
Vivaz Dance Shoes
Exclusive Discount
VIEW DEAL
- Get $15 OFF your next purchase
Shipped from Australia. 30 day money-back guarantee.
More Events Near Here
No listings found
Classes Near Here
The Secret Garden of Dance

Dance Tuition in Bachata, Kizomba and Cuban Salsa
189 Chesterville Road, Moorabbin

Bachata, Ballroom, Cha-Cha, Cuban-Salsa, DanceSport, Merengue, Salsa, Samba, Tango

Moorabbin based dance company with over 30 years of teaching experience offering everything from Salsa, Bachata to Ballroom & Latin dance.
Robles Dance Bar, First Floor, 341 Lygon Street, Carlton
Robels Studio: First Floor, 171 Lygon St, Carlton

Kizomba

African Soul is a teaching platform for many of the African dance styles. We specialise in Kizomba, Semba and Afro Beats. Tuesday night classes @Robels Studio: First Floor, 171 Lygon St, Carlton. Kizomba Fundamentals 6.30-7.30pm. Kizomba Intermediate 7.30-8.30pm. Afro dance fitness 8.45-9.15pm. Wednesday night classes @Charlie's Bar: 71 Hardware Ln, Melbourne CBD. Kizomba Fundamentals 7.30-8.30pm. Kizomba Intermediate 8.30-9.30pm. Social dancing (Kizomba, Semba, Afro) @Charlie's Bar every Wednesday night, 9.30pm till late.
Point Cook Community Learning Centre, 1-21 Cheetham Street Point Cook, VIC 3030
Moreland Hotel, Sydney Rd &, Moreland Rd, Brunswick VIC 3056, Australia
The Toff In Town, Curtin House, 2f/252 Swanston St, Melbourne CBD

Bachata, Cuban-Salsa, Salsa

Free Salsa, Cuban Salsa & Bachata Classes
Festivals Near Here