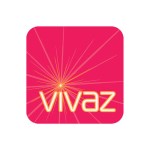 Vivaz is an Australian company that is run, owned and operated by Latin Junction Pty Ltd. Vivaz dance shoes are very unique and different to anything currently on the market. New Designs command attention, introducing styles that are bought for shear appearance as well as comfort in a dance shoe. To put it simply, Vivaz combine the fashion of a dress shoe with the performance of expensive designer dancing shoes. No longer do ladies need to wear dress shoes out that look great, but then have to change their shoes to dance - Vivaz is the solution.
Read More
.
Get $15 OFF your next purchase at Vivaz Dance
Exclusive Discount
Instructions
Visit the Website.
Use the promo code LDC15 at checkout.
Conditions
Valid for New and Existing customers.
Single use only on your next purchase.
Available for purchases over $100.
Can not be used in addition to any other discounts.
Vivaz Dance Shoes
Shipped from Australia. 30 day money-back guarantee.