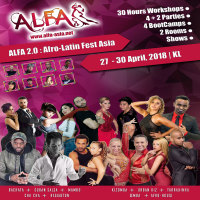 Friday, 27 April 2018
Kuala Lumpur, Kuala Lumpur, Malaysia
Location:
Kuala Lumpur, Malaysia
Like it? Share the event.
5% discount on Full & Party Pass

Instructions
Add the tickets to the cart on the tickets page
In the "Coupon Code" section enter the code "ALFA2LDC"
Click Promo Code and you'll see the discount
Contact Information

http://alfa-asia.net

Facebook Event
ALFA 2.0 : Afro-Latin Fest Asia 2018 – 5% discount
ALFA 2.0 bring you the Second Edition of ALFA in 2018.
Book Early Now to get the best rate for the festival Passes, There will be 4 Phases of Ticket Sales i.e. Super Early Bird Pass (FINISHED), Early Bird Pass (UNTIL 30-NOV) & Holiday Season Pass (Until 28-FEB) & Final Price. Don't miss out on the best Promotions
?
? 4 + 2 Nights Party 27 - 30 April, 2018 + Pre & Post Party

? 2 Full Days (30+ Hours) Workshops divided into Latin & Afro Room on 28 & 29 April, 2018

? 4 Bootcamps which will be held on 1-May 2018, Tuesday (Public Holiday), Note that this is not a Part of the Festival Package & To be bought seperately followed by Post Party at Night.
Artist Line up is will be bigger in this edition of ALFA compare to 2017. Confirmed Artists so far are ...
✔ Vito & Stefania (Italy) - Salsa ON2 & Pachanga + BOOTCAMP

✔ Hélio Santos (Cape Verde) – Kizomba + BOOTCAMP

✔ Frank & Erica (Dominican Republic) – Bachata + BOOTCAMP

✔ Ennuel Iverson (France) – Urban Kiz, Semba

✔ Osbanis & Anneta (Cuba/UK) - Cuban Salsa + BOOTCAMP

✔ Guiu & Borboleta (Spain) – Urban Kiz

✔ Damaris & Dhwani (Cuba) - Cuban Salsa

✔ Hannah Melder (Australia) – Kizomba

✔ Güpson Pierre (Canada) - Latin

✔ Sao Mai (Vietnam) – Latin, Kizomba

✔ Amar Singh (Malaysia) - Latin Artist

✔ Azlan & Mabel (Malaysia/UK) – Urban Kiz
--------------------------------------------------------------------------------------
Here are our DJs for the Festival that will keep you Grooving all nght Long.
? DJ Sam (IN / MY) | AFRO-LATIN

? DJ Yuma Kevin (Switzeland) | LATIN

? DJ Selva (Malaysia) | AFRO-LATIN

? DJ Careca (Australia) | AFRO

? DJ Gary (Malaysia) | LATIN

? DJ AL (Singapore) | AFRO

? The Professor (Canada) | LATIN

? DJ KizKa (Russia) | AFRO-LATIN
---------------------------------------------------------------------------------
NOTES:

✋ Exact Festival Venue To Be Confirmed, but It Will Be In KUALA LUMPUR, MALAYSIA So You May Proceed to Buy Your FLIGHT Ticket.
✋ Please Go To The Website www.alfa-asia.net To Read Full Details Of Artists, Full Terms & Conditions Etc. Before Buying Your Pass.
✋ Based on the feedback we have received only less then 5% has requested for a change in venue.
Kindly understand that we are trying to find a better venue but keeping in mind various important factor such as Dance Floor, 2 Rooms, Air-conditioning, Licensing, Travel Convenient, Budget etc. as of now we are enable to find a new venue.
However, in case we are unable to find another venue then KLDA we will definitely have better accommodation options within 10 mins walking distance.
If Festival Venue was your main concern last year then please wait until we finalize and announce the Festival Venue before buying your ALFA 2.0 pass. Thank You for your understanding!
✉ For further inquery please contcat us at [email protected]net
Contact ALFA 2.0 : Afro-Latin Fest Asia 2018 – 5% discount
More Festivals Near Here
Friday, 24 November 2017

VietNam Latin Xperience, Cung Xuan Palace, Số 01 Võ Thị Sáu, Hà Nội, Hanoi, Vietnam, 10000
Friday, 24 November 2017

Location:

Seoul, South Korea

Ramada Seoul Dongdaemun 04561, Dongho-Ro 354, Jung-Gu, Seoul
Friday, 01 December 2017

Shanghai, China, Shanghai, China
Friday, 15 December 2017

Marina Bay Cruise Centre Singapore, Port, Singapore, Singapore, 018947