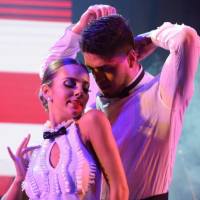 Saturday, 16 June 2018
Upstairs, 318 Chapel St (enter via Carlton St), Prahran, Victoria, Australia 3181
Location:
Melbourne, Australia
Like it? Share the event.
Workshops with Argentina's Carlos Veron
Melbourne dancers! Here is your chance to attend some very special workshops with World Class Dancer CARLOS VERON all the way from Argentina, assisted by Australia Champion Elysia Baker.
Don't miss out on the opportunity to learn from the Top 5 World Salsa Summit Miami USA 2018 male soloist.
SATURDAY 16 JUNE
1.30pm - 2.30pm SALSA SHINES & PARTNERWORK
2.30pm - 3.30pm BACHATA SHINES & PARTNERWORK
3.30pm - 4.30pm TANGO FUNDAMENTALS
The Space
(New York Room)
318 Chapel Street (enter via Carlton St), Prahran, 3181
Pricing:
$75 for all 3 workshops (or $30 for single workshop)
Payment via EFT or on the day in cash.
Limited spaces available, BOOK YOUR PLACE:
https://bit.ly/2kPyVQT
For more information contact Elysia
Ph 0400 894 420 or PM
Private lessons also available
Subscribe to FREE Email Updates in
Melbourne, Australia
Join over 5,000 Latin Dancers receiving emails for Dance Updates, Discounts, Giveaways and more.
More Workshops Near Here
| | |
| --- | --- |
| | Saturday, 23 June 2018 |
Friday, 27 July 2018

Dance 4 Life Studios, 13 Glass street,, East Kew, VIC, Australia, 3102
Classes Near Here
Bachata, Salsa, Tango

Wednesday 8 to 9:30 pm: Salsa Los Angeles style. Open levels. Saturday 1 pm:Bachata (Open level) - 2 pm:Salsa Los Angeles style. Open levels. - 3 pm: Tango open level - 4 pm: Tango Intermediate
480C Glen Huntly Rd, Elsternwick VIC 3185, Australia

Bachata, Cha-Cha, Cuban-Salsa, Kizomba, Salsa, Samba, Tango

Destine dance covers many styles of partner dance. We encourage you to try all of them, but, we also realise that dance is for you. Therefore, we can accommodate you as much as is possible to give you want you want, which we also know can change. Because we want it to be about you, and we are ready to help you get what you want, Destine Dance is the perfect place for you to learn dance. You can come for private lessons to really accelerate your learning or you can start with our group lessons for a fun a and social entrance into dance.
936 North Road, East Bentleigh, 3165

Bachata, Cha-Cha, Cuban-Salsa, Kizomba, Salsa, Zouk

DANCE101 is a Melbourne based dance company located at 936 North Road East Bentleigh (3 minutes from Chadstone Shopping Centre).  We also have locations i...
The Secret Garden of Dance

Bachata, Cha-Cha, Cuban-Salsa, Kizomba, Salsa

Bachata Dance Bootcamps and Private Tuition in Camberwell.
Festivals Near Here
Friday, 12 October 2018

Location:

Melbourne, Australia

Australian Kizomba Festival, 378 Nicholson Street, Fitzroy North, VIC, Australia, 3068