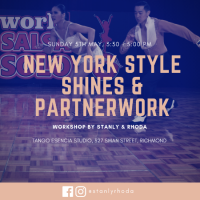 Sunday, 05 May 2019
327 Swan St, Richmond VIC 3121, Australia
Location:
Melbourne, Australia
Like it? Share the event.
Workshop: NY Style Shines & Partnerwork
It's time to jam New York style with 1.5 hours of shines and partnerwork goodness! This workshop will be full of groovy moves, but we always emphasise the techniques on how to lead/follow/execute them smoothly in true NY style. And with those techniques, you'll be ready to take these shines, patterns and concepts straight onto the social dance floor!
Perfect for intermediate and up salsa dancers who want to learn new material while also improving their technique! This workshop will be salsa on2, but if you've only done a little bit of on2, don't stress - we'll break everything down for you! :)
COST: $20 cash on the day
STUDIO: Tango Esencia, 327 Swan Street, Richmond (upstairs)
QUERIES: Message Stanly & Rhoda on Facebook
More Workshops Near Here
Sunday, 04 August 2019

327 Swan St, Richmond VIC 3121, Australia
Classes Near Here
480C Glen Huntly Rd, Elsternwick VIC 3185, Australia
218 Glen Huntly Rd, Elsternwick VIC 3185

Bachata, Cha-Cha, Cuban-Salsa, Kizomba, Salsa, Samba, Tango

Destine dance covers many styles of partner dance. We encourage you to try all of them, but, we also realise that dance is for you. Therefore, we can accommodate you as much as is possible to give you want you want, which we also know can change. Because we want it to be about you, and we are ready to help you get what you want, Destine Dance is the perfect place for you to learn dance. You can come for private lessons to really accelerate your learning or you can start with our group lessons for a fun a and social entrance into dance.
936 North Road, East Bentleigh, 3165

Bachata, Ballroom, Cha-Cha, DanceSport, Salsa, Samba, Zouk

The home of State, National & World Champions. Salsa, Bachata, Zouk & Latin
The Secret Garden of Dance

Dance Tuition in Bachata, Kizomba and Cuban Salsa
189 Chesterville Road, Moorabbin
9 Palermo Street, Mentone

Bachata, Ballroom, Cha-Cha, Cuban-Salsa, DanceSport, Merengue, Salsa, Samba, Tango

Tired of trying to remember the steps and all those moves you have learned? With us, you won't have to because we actually teach you to dance with your body, not your brain.
Festivals Near Here