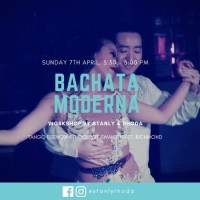 Sunday, 07 April 2019
327 Swan St, Richmond VIC 3121, Australia
Location:
Melbourne, Australia
Like it? Share the event.
Workshop: Bachata Moderna
You asked, so we deliver...BACHATA is back at our April workshop!
We'll be focusing on our unique style of bachata moderna, which is all about executing smooth patterns with solid connection and technique, and using footwork and body movement to add flavour to your dancing. This will be an open level workshop - expect to be challenged by new material, but also learn how to execute everything properly so that you can apply it straight to the social floor!
COST: $20 cash on the day
STUDIO: Tango Esencia, 327 Swan Street, Richmond (upstairs)
QUERIES: Message Stanly & Rhoda on Facebook or Instagram!
More Workshops Near Here
Classes Near Here
Point Cook Community Learning Centre, 1-21 Cheetham Street Point Cook, VIC 3030
Moreland Hotel, Brunswick VIC, Australia
Sonder Bar, 438 Centre Rd, Bentleigh

Bachata, Cuban-Salsa, Salsa

Free Salsa, Cuban Salsa & Bachata Classes
23 Bridge Road, Richmond, Victoria, Australia 3121

Bachata, Cha-Cha, Mambo, Salsa, Zouk

LocoMojo Dance specialises in Street Latin dances, like salsa, bachata, mambo and zouk, that are easy to learn and fun to dance socially. Our structured St...
13 Glass street, Kew East VIC 3102, Australia

Bachata, Cha-Cha, Cuban-Salsa, Gafieira, Samba, Tango, Zouk

Free Trial Available

Great Teachers, Great People, Great Dancing
Level 1, 241 Smith Street, Fitzroy, Melbourne, Australia, 3065
141 Johnston Street, Fitzroy, Melbourne, Victoria, Australia
Corner of Brighton Road and Chapel Street, St Kilda VIC 3182, Australia

Bachata, Salsa, Samba

Current Classes Melbourne Salsa - The Night Cat - Sundays - Bachata & Salsa http://melbournesalsa.com.au/classes/bachata-salsa-night-cat/Melbourn...
Festivals Near Here
Friday, 07 June 2019

Location:

Melbourne, Australia

The Night Cat, 141 Johnston St, Fitzroy
Friday, 18 October 2019

Location:

Melbourne, Australia

497 Queensberry St, North Melbourne, Victoria 3051