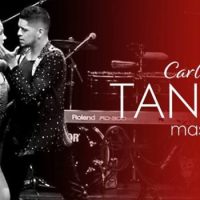 Saturday, 21 July 2018
Location:
Melbourne, Australia
Like it? Share the event.
Tango Masterclass with Argentina's Carlos Veron
There is no description available. Please check the link for more information.
More Workshops Near Here
Friday, 27 July 2018

Dance 4 Life Studios, 13 Glass street,, East Kew, VIC, Australia, 3102
Classes Near Here
Robles Dance Bar, First Floor, 341 Lygon Street, Carlton
Robels Studio: First Floor, 171 Lygon St, Carlton

Kizomba

African Soul is a teaching platform for many of the African dance styles. We specialise in Kizomba, Semba and Afro Beats. Tuesday night classes @Robels Studio: First Floor, 171 Lygon St, Carlton. Kizomba Fundamentals 6.30-7.30pm. Kizomba Intermediate 7.30-8.30pm. Afro dance fitness 8.45-9.15pm. Wednesday night classes @Charlie's Bar: 71 Hardware Ln, Melbourne CBD. Kizomba Fundamentals 7.30-8.30pm. Kizomba Intermediate 8.30-9.30pm. Social dancing (Kizomba, Semba, Afro) @Charlie's Bar every Wednesday night, 9.30pm till late.
307 Sydney Road, Brunswick, Victoria, Australia
80 Lonsdale Circuit, Hoppers Crossing 3029

Bachata, Cuban-Salsa, Salsa

FREE SALSA CLASS & CUBAN SALSA CLASSES
23 Bridge Road, Richmond, Victoria, Australia 3121

Bachata, Cha-Cha, Mambo, Salsa, Zouk

LocoMojo Dance specialises in Street Latin dances, like salsa, bachata, mambo and zouk, that are easy to learn and fun to dance socially. Our structured St...
13 Glass street, Kew East VIC 3102, Australia

Bachata, Cha-Cha, Cuban-Salsa, Gafieira, Samba, Tango, Zouk

Free Trial Available

Great Teachers, Great People, Great Dancing
Festivals Near Here
Friday, 12 October 2018

Location:

Melbourne, Australia

Australian Kizomba Festival, 378 Nicholson Street, Fitzroy North, VIC, Australia, 3068