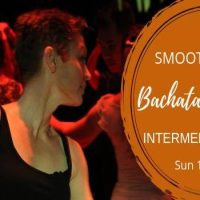 Sunday, 16 September 2018
Level 1, 823 Burke Rd, Camberwell, Victoria 3124
Location:
Melbourne, Australia
Like it? Share the event.
Smooth Moves Bachata Bootcamp
There is no description available. Please check the link for more information.
More Workshops Near Here
No listings found
Classes Near Here
19 Brunswick Street Fitzroy

Bachata, Cha-Cha, Cuban-Salsa, Forro, Kizomba, Mambo, Merengue, Salsa, Samba

Specialists in Cuban, Latin and African Dance Styles
United Styles, Corner Brighton Road and Chapel Street, St Kilda, 3182

Bachata, Salsa, Samba

Monday nights - 7:30-9:30pm Level 1 & Intermediate Bachata Sensual  Thursday nights - 7:30-9pm 4 week Beginner Bachata course every calendar month Pri...
Bachata, Salsa, Tango

Wednesday 8 to 9:30 pm: Salsa Los Angeles style. Open levels. Saturday 1 pm:Bachata (Open level) - 2 pm:Salsa Los Angeles style. Open levels. - 3 pm: Tango open level - 4 pm: Tango Intermediate
480C Glen Huntly Rd, Elsternwick VIC 3185, Australia

Bachata, Cha-Cha, Cuban-Salsa, Kizomba, Salsa, Samba, Tango

Destine dance covers many styles of partner dance. We encourage you to try all of them, but, we also realise that dance is for you. Therefore, we can accommodate you as much as is possible to give you want you want, which we also know can change. Because we want it to be about you, and we are ready to help you get what you want, Destine Dance is the perfect place for you to learn dance. You can come for private lessons to really accelerate your learning or you can start with our group lessons for a fun a and social entrance into dance.
Festivals Near Here
Friday, 18 October 2019

Location:

Melbourne, Australia

497 Queensberry St, North Melbourne, Victoria 3051