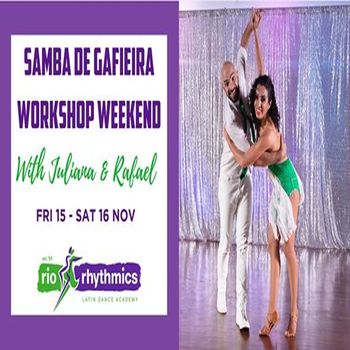 Friday, 15 November 2019
163 Boundary Street, West End, Brisbane, Queensland, Australia 4101
Location:
Brisbane, Australia
Like it? Share the event.
Samba de Gafieira Workshop Weekend with Juliana & Rafael
There is no description available. Please check the link for more information.
More Workshops Near Here
No listings found
Classes Near Here
17 Gibbon Street, Woolloongabba
197 Boundary Street, West End

Kizomba

Kizomba and Semba is our passion!
163 Boundary St, West End, Q 4101

Bachata, Bolero, Cuban-Salsa, Forro, Gafieira, Kizomba, Merengue, Salsa, Samba, Tango, Zouk

Rio Rhythmics offers a unique Latin dance curriculum starting with Latin Dance Starter where you unlock the basics of 6 of the most popular styles in just 6 weeks. From there you can continue onto the full Foundation program which encompasses 8 different styles. Other Starter programs include, Samba, Tango and Cuban Salsa Starter courses.
Festivals Near Here