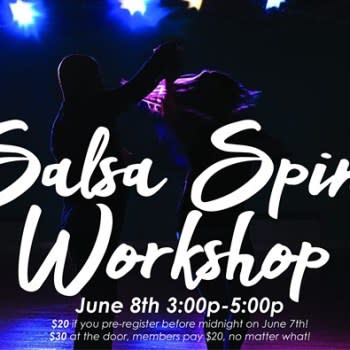 Saturday, 08 June 2019
Sound in Motion - 3554 S Findley Ave, Boise, Idaho 83705
Location:
Boise, Idaho, USA
Like it? Share the event.
Salsa Spins Workshop
Learn to do multiple spins in Salsa! Learn how to lead and follow the prep for multiple spins. Learn how to not fall out of your spins and have control of your balance! Learn how to help a follower balance during her spins so you can lead cool moves out of spins. Will break down the technique of how to connect your body and arm so that you can spin as well as give you cool variations of spins and of course how to do stationary multiple spins (2, 3, 4, or even more!)
$20 if you pre-register by midnight on June 7th!
$30 at the door, members pay $20 no matter what!
More Workshops Near Here
No listings found
Classes Near Here
Festivals Near Here
No listings found