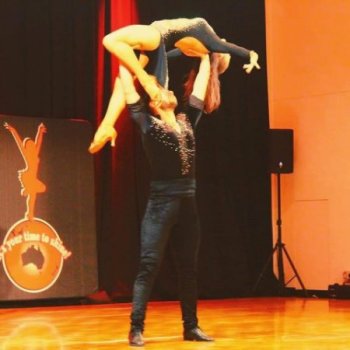 Sunday, 11 August 2019
QuickSteps Dance Club Studio, Gouger Street, Adelaide SA, Australia
Location:
Adelaide, Australia
Like it? Share the event.
Salsa Sensation Party/Show & Workshops With Artia & Madalyn
QuickSteps Dance Club Studios in partnership with Espirito Latino Events Adelaide proudly presents:
SALSA SENSATION ☆ Party/Show & Workshops with Artia and Madalyn! ☆
☆SUNDAY AUGUST 11
Come meet, learn, dance and enjoy an amazing show by two of the greatest Salsa dancers in Australia!
■ 5:30pm - Workshop- Salsa sensual ladies styling with Madalyn
■ 6:30pm - Workshop - Salsa body movement with Artia
■ 7:30pm - Dance Party!
Special performance by World Salsa Champion Artia Zamdian and his gorgeous dance partner Madalyn Milazzo followed by Social dancing party time til late.
You can book now:
$80 Full pass < 2 workshops + party >
OR
$40 one workshop pass.
$20 Entrance fee for the Party!
We promise you a sensational day full of dance, fun and positive vibes!
FAQs
How can I book my tickets?
Copy/paste this link to your keypad to connect:
https://www.eventbrite.com.au/e/salsa-sensation-party-show-workshops-with-artia-and-madalyn-tickets-65291381279?fbclid=IwAR3vFoTaKbxMQX5tovPqSo3hcEWkMpnncXJkvoVimvGFT13BeV9ODElR1ww
How can I contact the organiser with any questions?
Call or email Quicksteps dance studio and ask for Michelle.
Tel: 08 8121 3399
E-mail: [email protected]
Or you can inbox any of the following facebook pages.
~Quicksteps/dance/club /studio~
~Espirito Latino Events Adelaide~
More Workshops Near Here
Saturday, 23 November 2019

80 Anzac Highway Everard Park, Adelaide, South Australia 5035
Classes Near Here
Festivals Near Here
No listings found