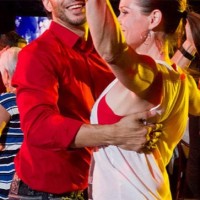 Friday, 14 September 2018
Level 1, 241 Smith St. Fitzroy VIC 3065
Location:
Melbourne, Australia
Like it? Share the event.
Salsa Classes In Fitzroy
SALSA WORKSHOP FRIDAY'S 14th & 21st SEPTEMBER
7.30-8.30pm Salsa Beginner. Designed to learn the basics and to 'get out' and just dance! During this session, we'll be working on Fundamental Elements, Body Conditioning and Partner Connection.
8.30-9.30pm Salsa Open Level Class (Catered for Intermediate and above) During this session we'll be working on Partner Connection, Body Conditioning, Lead/Follow and Unique Dance Floor Friendly Combinations.
1 hr Workshop $20 or come to both lessons for only $30
Level 1, 241 Smith St. Fitzroy VIC 3065 (Corner Hodgson St.)
For further details call Christian on 0419 361 859
More Workshops Near Here
No listings found
Classes Near Here
189 Chesterville Road, Moorabbin
9 Palermo Street, Mentone
25 Kermeen Street, Sunshine West

Bachata, Ballroom, Cha-Cha, Cuban-Salsa, DanceSport, Merengue, Salsa, Samba, Tango

Tired of trying to remember the steps and all those moves you have learned? With us, you won't have to because we actually teach you to dance with your body, not your brain.
Robles Dance Bar, First Floor, 341 Lygon Street, Carlton
Robels Studio: First Floor, 171 Lygon St, Carlton

Kizomba

African Soul is a teaching platform for many of the African dance styles. We specialise in Kizomba, Semba and Afro Beats. Tuesday night classes @Robels Studio: First Floor, 171 Lygon St, Carlton. Kizomba Fundamentals 6.30-7.30pm. Kizomba Intermediate 7.30-8.30pm. Afro dance fitness 8.45-9.15pm. Wednesday night classes @Charlie's Bar: 71 Hardware Ln, Melbourne CBD. Kizomba Fundamentals 7.30-8.30pm. Kizomba Intermediate 8.30-9.30pm. Social dancing (Kizomba, Semba, Afro) @Charlie's Bar every Wednesday night, 9.30pm till late.
Point Cook Community Learning Centre, 1-21 Cheetham Street Point Cook, VIC 3030
8 Glenlyon Road, Brunswick

Bachata, Cuban-Salsa, Salsa

Free Salsa, Cuban Salsa & Bachata Classes
23 Bridge Road, Richmond, Victoria, Australia 3121

Bachata, Cha-Cha, Mambo, Salsa, Zouk

LocoMojo Dance specialises in Street Latin dances, like salsa, bachata, mambo and zouk, that are easy to learn and fun to dance socially. Our structured St...
Festivals Near Here
Thursday, 14 February 2019

Location:

Melbourne, Australia

The Space Dance & Arts Centre, Chapel Street, Prahran VIC, Australia
Friday, 05 April 2019

Location:

Melbourne, Australia
Friday, 18 October 2019

Location:

Melbourne, Australia

497 Queensberry St, North Melbourne, Victoria 3051