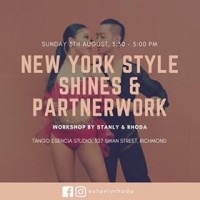 327 Swan St, Richmond VIC 3121, Australia
Location:
Melbourne, Australia
Like it? Share the event.
NY Style Shines & Partnerwork
Stanly & Rhoda are super excited to be bringing you monthly pop-up workshops! Each month will have a different theme, and this time, we're doing New York style mambo. ?
After our 3-week dance training trip to New York earlier this year, we couldn't wait to inspire you with some of the moves and techniques that we learned. This workshop is designed for intermediate-plus dancers who are up for a challenge. It will be a 1.5-hour salsa on2 class that will cover both shines and partnerwork. ?
COST: $20 cash on the day
STUDIO: Tango Esencia, 327 Swan Street, Richmond (upstairs)
QUERIES: Message us on Facebook! ?
More Workshops Near Here
Classes Near Here
281-283 Swan Street
Richmond
3121, VIC

Bachata, Salsa, Samba

You're just a couple of steps away (pardon the pun) from your best decision this year ;-) Learn to dance. Make new friends. Join the family. We teach Salsa, Bachata and Brazilian Samba. We teach it right and have been doing so for more than 15 years. But don't just take our word for it... -> https://www.melbournelatindance.com.au/what-our-students-love-about-mld Melbourne Latin Dance. Melbourne's Home of Latin Dance.
19 Brunswick Street Fitzroy

Bachata, Cha-Cha, Cuban-Salsa, Forro, Kizomba, Mambo, Merengue, Salsa, Samba

Specialists in Cuban, Latin and African Dance Styles
United Styles, Corner Brighton Road and Chapel Street, St Kilda, 3182

Bachata, Salsa, Samba

Monday nights - 7:30-9:30pm Level 1 & Intermediate Bachata Sensual  Thursday nights - 7:30-9pm 4 week Beginner Bachata course every calendar month P...
Bachata, Salsa, Tango

Wednesday 8 to 9:30 pm: Salsa Los Angeles style. Open levels. Saturday 1 pm:Bachata (Open level) - 2 pm:Salsa Los Angeles style. Open levels. - 3 pm: Tango open level - 4 pm: Tango Intermediate
Festivals Near Here