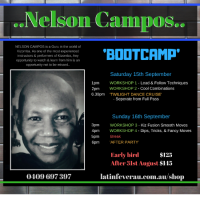 Blue Cactus Mexican Diner, Henley Beach Road, Mile End SA, Australia
Location:
Adelaide, Australia
Like it? Share the event.
Nelson Campos 'BOOTCAMP!'
NELSON CAMPOS is a Guru in the world of Kizomba. As one of the most experienced instructors & performers of Kizomba, Any opportunity to watch & learn from him is an opportunity not to missed.
Nelson continues to work with UKA teaching & training dancers to become certified Kizomba, Salsa & Bachata teachers, as well as judging competitions.
Nelson will be holding a "BOOTCAMP!" on the 15th & 16th of September.. teaching 4 x WORKSHOPS...2 x Saturday & 2 x Sunday.. with an after party early Sunday evening at Blue Cactus Mexican Diner!...
(Nelson will also be joining us for our 'TWILIGHT DANCE CRUISE' on Saturday 15th September 2018.. )
SATURDAY
1pm WORKSHOP 1
- Lead / Follow Techniques
2pm WORKSHOP 2
- Cool Combinations
6.30pm "Twilight Dance Cruise" (separate from Full Pass)
SUNDAY
3pm WORKSHOP 3
- Kiz Fusion Smooth Moves
4pm WORKSHOP 4
Dips, Tricks & Fancy Moves
5pm Break
6pm After Party!!..
PRICES
Full Pass (includes 4 x Workshops & Sunday party)
Early Bird: $125
After 31st August: $145
Twilight Dance Cruise - Saturday 15th September
$50 - Thursdays at 'Hot Latin Nights! (cash)
$53 - Online at latinfeverau.com.au/shop (includes transaction fee)
Tickets Include:
- 3 hours of Hot Latin & Afro Beats by DJ Lobo
- FREE Kizomba Intro class
- Light finger food
- Door Prizes - valued at over $150
- After Party: TBA
Bar facilities available. Sorry no BYO
6.30pm boarding for 7pm departure, returning 10pm.
Queens Wharf, End of Commercial Road, Port Adelaide
Tickets are limited!.. so be sure to get yours soon.. (payments need to be secured by August 31st)
If people are still keen to keep dancing after the cruise, we can perhaps look at heading into the city!
Have FUN, learn to DANCE, & KEEP FIT at the same time!. :)
0409 697 397 [email protected]
More Workshops Near Here
No listings found
Classes Near Here
Festivals Near Here
No listings found