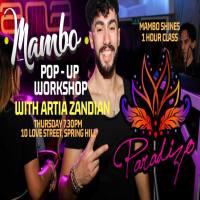 Thursday, 14 June 2018
10 Love Street, Brisbane, Queensland, Australia 4000
Location:
Brisbane, Australia
Like it? Share the event.
MAMBO Pop Up Workshop with Artia! This Thursday 7.30pm
There is no description available. Please check the link for more information.
Subscribe to FREE Email Updates in
Brisbane, Australia
Join over 5,000 Latin Dancers receiving emails for Dance Updates, Discounts, Giveaways and more.
More Workshops Near Here
No listings found
Classes Near Here
163 Boundary St, West End, Q 4101

Bachata, Bolero, Cuban-Salsa, Forro, Gafieira, Merengue, Salsa, Samba, Tango, Zouk

Rio Rhythmics offers a unique Latin dance curriculum starting with Latin Dance Starter where you unlock the basics of 6 of the most popular styles in just 6 weeks. From there you can continue onto the full Foundation program which encompasses 8 different styles. Other Starter programs include, Samba, Tango and Cuban Salsa Starter courses.
Festivals Near Here
Thursday, 19 July 2018

Location:

Gold Coast, Australia

Mantra on View Hotel, 22 View Ave, Surfers Paradise QLD 4217
Discount Tickets

$20 Discount on Passes

Friday, 24 August 2018

Location:

Gold Coast, Australia

Novotel Surfers Paradise, 3105 Surfers Paradise Boulevard, Gold Coast, Queensland 4217