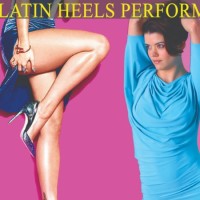 709 Lincoln Blvd, Venice, CA, USA
Location:
Los Angeles, USA
Like it? Share the event.
Latin Heels Performance Series!
Heels Class is all the Rage…
… And we are giving it a Latin Flare! Come work your Beyonce struts, Salsa Shimmies, and Latin Body Motion, and in just a few months you will be ready to perform alongside our Salerosas Ladies Salsa Team at our Winter Showcase!
All Levels are Welcome and Don't worry! Performance is not mandatory, and you can join us as a Diva in training.
Series Info: Sundays Starting Sept 16, 6-8pm
Capoeira Besouro Studio
709 Lincoln Blvd.
Venice, CA
Performance is TBA during the 2nd or 3rd weekend of December.
REGISTER NOW!!
$315 for 3 months Pre-pay, or $115 month to month with Pre-Registration.
(Cost includes at least 10 rehearsals, but most likely a couple extra may be added getting closer to show date. For month to month option, subsequent payments will be due by the 3rd of each month.)
More Workshops Near Here
No listings found
Classes Near Here
342 N Ford Blvd, East Los Angeles, CA 90022, USA

Cha-Cha, Mambo, Salsa

On2 Courses now available.Book with code LDC for a $5 discount.For more information to to book your course visit Eventbrite (discount automatical...
2221 Harbor Blvd, Costa Mesa, CA 92627
965 Presidio Sq, Costa Mesa, CA 92626
1618 Cotner Ave, Los Angeles, CA 90025-3304

Cuban-Salsa

Come learn the fundamental basic elements, lots of variations and the combinations that make up "Rueda de Casino"
1618 Cotner Ave, Los Angeles, CA, USA

Bachata, Salsa

Salsa Classes:Join us for Salsa class every 2nd Saturday at the Blen Blen social! Each month, you'll learn fundamentals of Salsa, musicality, rhythm, footw...
Festivals Near Here
Friday, 12 July 2019

Location:

San Francisco, USA
Friday, 19 July 2019

Location:

San Francisco, USA

1800 Old Bayshore Hwy, Burlingame, California 94010
Saturday, 27 July 2019

Location:

Los Angeles, USA

Plaza Park, 500 S C St, Oxnard, CA 93030, USA
Discount Tickets

10% Discount on Passes

Friday, 30 August 2019

Location:

Los Angeles, USA

111 East Ocean Boulevard, Long Beach, CA 90802, USA