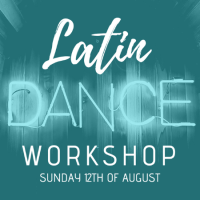 Sunday, 12 August 2018
474 Neerim Road, Murrumbeena VIC, Australia
Location:
Melbourne, Australia
Like it? Share the event.
Latin Dance Workshop
Paul Zaidman will be leading this workshop for the Melbourne dance community accompanied by his partner Anna Selleck. Paul has been teaching all styles of dance including Ballroom, Latin, Street Latin, New Vogue, Rock'n'Roll & much more since 1990. He started dancing at the ripe age of five and has covered many other styles including Ballet, Hip-Hop & Breakdancing just to name a few. Paul has trained Internationally by a number of former professional Champions.
Some of Paul's achievements include;
Blackpool Dance Festival Finalist (2014)
Victorian Salsa Classic Professional Winner (2010)
Dancing with the Stars Coach (2008)
Strictly Dancing Finalist (2004)
Singapore International Pro Latin runner-up (1999)
Dances and styles that may be used in this workshop are:
Salsa, Cha-Cha, Bachata, Rumba, Samba
Street Latin & DanceSport
TIME: 11am - 4pm
10:30am - Arrive
11:00am - Start Workshop
1:00pm - Lunch (60 mins)
2:00pm - Recommence Workshop
4:00pm - Finish
ADDRESS:
Dance Be In It Studio
474 Neerim Road, Murrumbeena
PRICE & PAYMENT:
$75 (Direct Debit)
Dance House International
BSB: 063533
ACC: 10849492
In description please state 'Your Name' & the word 'Workshop' or 'WS'
$85 at the door (limited spots available)
Please click 'GOING' to confirm your spot
THINGS YOU MAY NEED TO KNOW:
Yes, there will be opportunities to film certain parts of the workshop
Having a choice of different dance shoes to wear is a good option
Layer your clothing. You may start out cold but you will get warm and need to take layers off to keep you comfortable. Gym or Latin practice wear is recommended
Bring a water bottle as you will need to stay hydrated
You can bring a packed lunch with you or if you wish not to do this then there are Cafes walking distance from the studio for you to purchase lunch and coffee from
There is free street parking available
(you will need to move your car at the break)
You do not need a partner for this workshop
For all other inquires please call: 0400 882 779
More Workshops Near Here
No listings found
Classes Near Here
Level 1, 241 Smith Street, Fitzroy, Melbourne, Australia, 3065
141 Johnston Street, Fitzroy, Melbourne, Victoria, Australia
Corner of Brighton Road and Chapel Street, St Kilda VIC 3182, Australia

Bachata, Salsa, Samba

Current Classes Melbourne Salsa - The Night Cat - Sundays - Bachata & Salsa http://melbournesalsa.com.au/classes/bachata-salsa-night-cat/Melbourn...
327 Whitehorse Rd, Balwyn, Melbourne, Australia, 3103

Salsa, Tango

Rio Dance Studio specialises in teaching adult beginners social dancing through Private and Group class tuition. Your first visit to our studio is a compli...
Level 1, 341 Lygon Street, Carlton, Victoria, Australia

Zouk

DanceIM specialises in Brazilian Zouk, and is owned and directed by internationally known dancer Izzy Washington. We at DanceIM believe that dance has coun...
341 Lygon Street, Carlton, Victoria, Australia

Bachata, Cha-Cha, Cuban-Salsa, Salsa

Thursday classes resume Jan 18 2018, GO LIVE resumes Jan 25 2018 and Sabado Sorpresa is back on Feb 10 2018.Come down and enjoy classes in Cuban Salsa...
Festivals Near Here
Thursday, 14 February 2019

Location:

Melbourne, Australia

The Space Dance & Arts Centre, Chapel Street, Prahran VIC, Australia
Friday, 05 April 2019

Location:

Melbourne, Australia
Friday, 18 October 2019

Location:

Melbourne, Australia

497 Queensberry St, North Melbourne, Victoria 3051