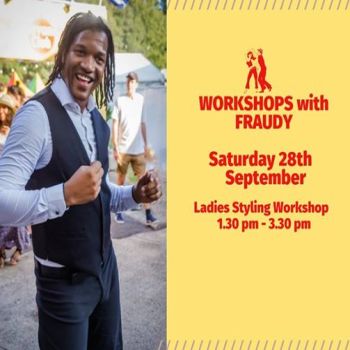 Saturday, 28 September 2019
Level 1, 11-15 Falcon Street, Crows Nest, New South Wales, Australia 2065
Location:
Sydney, Australia
Like it? Share the event.
Ladies Styling Workshop with Fraudy
There is no description available. Please check the link for more information.
More Workshops Near Here
No listings found
Classes Near Here
Level 1, 93 Bathurst St, Sydney

Salsa, Tango
Level 1, 103 Foveaux Street Surry Hills

Bachata, Cha-Cha, Cuban-Salsa, Salsa, Tango
42 North Steyne Manly, Sydney

Bachata, Salsa

Wednesday Salsa lessons and social dance in Manly. Check out our website for more details!
1st floor, 45 Oxford St, Darlinghurst NSW

Bachata, Cha-Cha, Cuban-Salsa, Kizomba, Mambo, Salsa, Zouk

Salsa, Bachata and more in the heart of Sydney!
Festivals Near Here