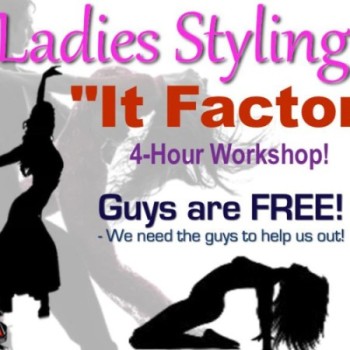 Sunday, 27 October 2019
3550 N Federal Blvd, Denver, CO, USA
Like it? Share the event.
Ladies Styling `It Factor` Latin Dance Workshop
Lady's Styling "It Factor" 4-Hour Workshop!!
**Guys are FREE**
- We need the guys to help us out!
Learn how to get that "It Factor" ... and make it WORK FOR YOU!!
THIS IS GOING TO BE A BLAST!!
Instructor: World Renown Edie, The Salsa FREAK!!
~ A Great Teacher, Makes ALL the Difference! ~
Bio: https://www.SalsaFreak.com/bio
Learn how to ~ STYLIZE ~ your dancing!
Learn Step-by-Step how to apply SUPER Sexy, Sensual and Feminine Moves into:
- Salsa
- Bachata
- Merengue
- Cha Cha
- and Cumbia!!
Call (303) 888-5355 for more information
Not In Denver? Edie Livestreams her Salsa Bootcamps! If you can't make the workshops, and can dial in from your computer that Sunday, please contact Edie for log-in instructions! You will receive 50% off the price as an online viewer.
THIS IS GOING TO BE A BLAST!!
DON'T MISS IT!!
More Workshops Near Here
No listings found
Classes Near Here
Festivals Near Here
No listings found