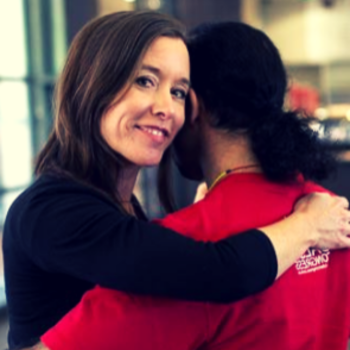 Sunday, 18 August 2019
The Secret Garden of Dance, enter via, Harold Street, Camberwell VIC, Australia
Location:
Melbourne, Australia
Like it? Share the event.
Kizomba Fundamentals Workshop
Discover the essence of Kizomba, a beautiful dance style with its roots in Angola. This style is described as the African Tango.
In this workshop you will learn the important fundamentals of the style. Rhythm, timing, posture, embrace, basic steps, movement, lead & follow. This session runs for 1.5hrs.
DETAILS:
When: Sunday 18th August from 5.45pm - 7.15pm
Venue: The Secret Garden of Dance, Camberwell
COST: $25
BOOKINGS ARE ESSENTIAL AS NUMBERS ARE LIMITED.
PLEASE BOOK ONLINE HERE:
https://picanteproductions.com.au/
YOUR TEACHER, Sky Blue:
https://picanteproductions.com.au/about/
More Workshops Near Here
Classes Near Here
Level 1, 341 Lygon Street, Carlton, Victoria, Australia

Zouk

DanceIM specialises in Brazilian Zouk, and is owned and directed by internationally known dancer Izzy Washington. We at DanceIM believe that dance has coun...
341 Lygon Street, Carlton, Victoria, Australia

Bachata, Cha-Cha, Cuban-Salsa, Salsa

Come down and enjoy classes in Cuban Salsa (Casino) and other Cuban rhythms like Son and Cha Cha Cha with Maxine and the AContra team. Classes start at 7pm...
281-283 Swan Street
Richmond
3121, VIC

Bachata, Salsa, Samba

You're just a couple of steps away (pardon the pun) from your best decision this year ;-) Learn to dance. Make new friends. Join the family. We teach Salsa, Bachata and Brazilian Samba. We teach it right and have been doing so for more than 15 years. But don't just take our word for it... -> https://www.melbournelatindance.com.au/what-our-students-love-about-mld Melbourne Latin Dance. Melbourne's Home of Latin Dance.
19 Brunswick Street Fitzroy

Bachata, Cha-Cha, Cuban-Salsa, Forro, Kizomba, Mambo, Merengue, Salsa, Samba

Specialists in Cuban, Latin and African Dance Styles
Festivals Near Here