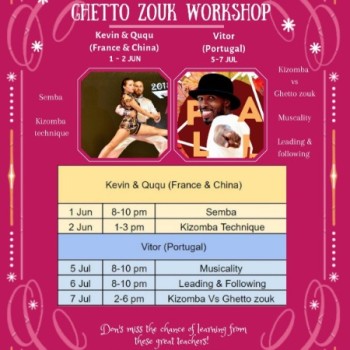 Saturday, 01 June 2019
11/F, Richmond Plaza, 496 Jaffe Road, Causeway Bay, Hong Kong
Like it? Share the event.
Kevin & Ququ Semba And Kizomba Workshop In HK
We are so happy to have Kevin and Ququ coming back to teach us semba and kizomba on 1st and 2nd of June. They will provide performance training on 2/June too. Please contact Iris at 90900372 or Yvonne 93278601 if you are interested to join.
More Workshops Near Here
No listings found
Classes Near Here
Festivals Near Here