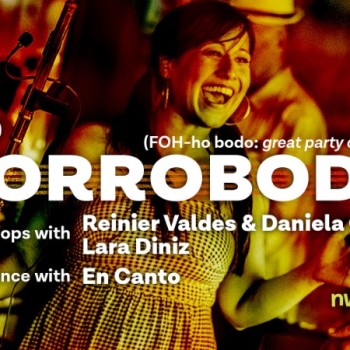 Sunday, 09 June 2019
1920 Dexter Ave N, Seattle, WA, USA
Like it? Share the event.
Forrobodó
Northwest Dance Network is kicking off the summer with a half day dance workshop event plus a live musical performance by En Canto, Seattles premier Forró band. This special half day workshop event is called Forrobodó which means "great party" in Portuguese. Starting us off at 3:30 will be Reinier Valdes and Daniela Gallardo of La Clave Cabana who will lead us in the spirited Salsa in a Circle, followed by an Introduction to Forró workshop led by Lara Diniz who will show us the sultry moves inherent in this dance. Immediately following the 2 workshops is a live musical performance and dance with En Canto. 3:30pm-5:30 pm
Salsa in a Circle, 6:00-7:00pm Intro to Forró, 7:00-9:00pm Live music and dancing to En Canto. $35.00 for the entire event with preregistration. Other payment options are available. For additional information please go to nwdance.net or Facebook. Can also pay at the door throughout any part of the day. Forrobodó!
More Workshops Near Here
No listings found
Classes Near Here
Festivals Near Here