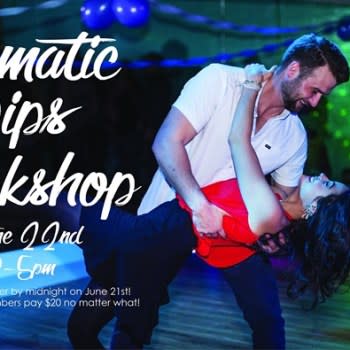 Saturday, 22 June 2019
Sound in Motion - 3554 S Findley Ave, Boise, Idaho 83705
Location:
Boise, Idaho, USA
Like it? Share the event.
Dramatic Dips Workshop
Always wanted to learn how to lead dip? Want to know how to dip without your back hurting? Join us in this awesome one of a kind 2 hour workshop where we will learn the technique of dips as well as a variety of cool dips you can use on the social dance floor!! Learn how to put the finishing touch on the song!
$20 if you pre-register by midnight on June 21st!
$30 at the door, members pay $20 no matter what!
Register Here: http://www.soundinmotiondance.com/workshops/
More Workshops Near Here
No listings found
Classes Near Here
Festivals Near Here
No listings found