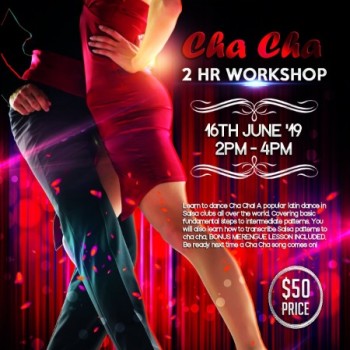 Sunday, 16 June 2019
3/206 Whatley Crescent, Maylands Western Australia 6051, Australia
Location:
Perth, Australia
Like it? Share the event.
Cha Cha – 2 Hour Workshop
LEARN TO DANCE CHA CHA!
A popular latin dance in Salsa clubs all over the world. Covering basic fundamental steps to intermediate patterns. You will also learn how to transcribe Salsa patterns to Cha Cha. Be ready next time a Cha Cha song comes on!!
You will learn:
* The characteristics, timing and styling of Cha Cha.
* How to transcribe your Salsa moves to Cha Cha.
* How to dance Salsa On "2" as Cha Cha is an On "2" dance where
one breaks on the 2 count.
* How to dance Merengue! A free lesson included!
Please note that this is NOT ballroom Cha Cha and students must have a minimum intermediate level Salsa dance experience.
COST: $50
EXPERIENCE REQUIREMENT: Minimum Intermediate level Salsa.
Payment options available on the website here: https://www.therapture.com.au/classes
More Workshops Near Here
No listings found
Classes Near Here
Festivals Near Here
No listings found