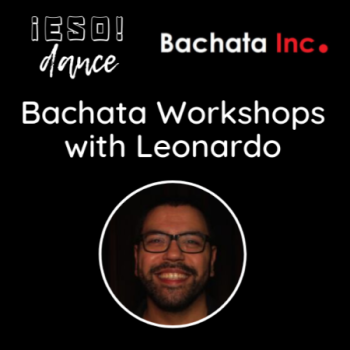 Sunday, 25 August 2019
25/1140 Nepean Hwy, Mornington
Location:
Melbourne, Australia
Like it? Share the event.
Bachata Workshops With Bachata Inc.
¡ESO! Dance is proud to host Leonardo Quiroz of Bachata Inc.! Leonardo has been teaching bachata for 9 years, and started the first bachata night in Australia back in 2009. He has taught around Australia and internationally, and is very passionate about technique and connection. He describes his style as smooth bachata, with a little romantic and urban influence. We are so excited that Leonardo will be sharing his extensive knowledge with us here in Mornington!
Please join us for the following 1 hour workshops on Sunday 25 August:
**1PM Workshop 1: Fundamentals** OPEN LEVEL. Leo will demonstrate bachata basic steps, body movement, and simple turns. Beginners will learn these basic steps, and experienced dancers will gain tips to hone their technique.
**2PM Workshop 2: Social Moves** INTERMEDIATE LEVEL. Apply the techniques and steps from Workshop 1 to create cool combinations and look great on the dance floor.
**3PM Workshop 3: Advanced Moves** INTERMEDIATE++ LEVEL. Build on the skills you've gained in the first two workshops to take your social dancing to another level!
**Pricing**
1 workshop $25
2 workshops $45
3 workshops $60
Places are limited! - please message us on Facebook or at [email protected] to reserve your spot.
More Workshops Near Here
No listings found
Classes Near Here
Level 1, 341 Lygon Street, Carlton, Victoria, Australia

Zouk

DanceIM specialises in Brazilian Zouk, and is owned and directed by internationally known dancer Izzy Washington. We at DanceIM believe that dance has coun...
341 Lygon Street, Carlton, Victoria, Australia

Bachata, Cha-Cha, Cuban-Salsa, Salsa

Come down and enjoy classes in Cuban Salsa (Casino) and other Cuban rhythms like Son and Cha Cha Cha with Maxine and the AContra team. Classes start at 7pm...
281-283 Swan Street
Richmond
3121, VIC

Bachata, Salsa, Samba

You're just a couple of steps away (pardon the pun) from your best decision this year ;-) Learn to dance. Make new friends. Join the family. We teach Salsa, Bachata and Brazilian Samba. We teach it right and have been doing so for more than 15 years. But don't just take our word for it... -> https://www.melbournelatindance.com.au/what-our-students-love-about-mld Melbourne Latin Dance. Melbourne's Home of Latin Dance.
19 Brunswick Street Fitzroy

Bachata, Cha-Cha, Cuban-Salsa, Forro, Kizomba, Mambo, Merengue, Salsa, Samba

Specialists in Cuban, Latin and African Dance Styles
Festivals Near Here