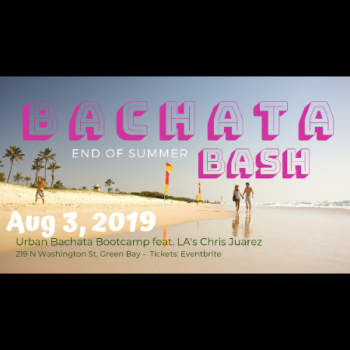 Saturday, 03 August 2019
219 North Washington Street, Green Bay, WI, USA
Location:
Green Bay, Wisconsin
Like it? Share the event.
Bachata Bash
Chris Juarez, "DJ Ban" the talented Instructor, Dancer and DJ is leading summer's last huge dance event!!! Flying in from LA, he will fire up Green Bay/Fox Valley with a mix of Urban Bachata & Fusion Bachata on August 3rd. Don't miss the chance to learn Bachata from Chris during 2 amazing sessions. Show what you've got (and practice what you've learned) during the Dance that follows.
1-3p Urban & Fusion Bachata I - 2 hrs $40
3:30-5:30p Urban & Fuson Bachata II - 2 hrs $40
BOTH CLASSES - 4 hours $65 Earlybird special (valid until 7/27)
BOTH CLASSES - 4 hours $75 Regular pricing (valid 7/28-8/3)
7-10p . Dance Party - 3 hours $5
Clothing: For classes, smooth bottomed shoes and workout clothing. For the dance party: Dress to Impress!!!
Food: Amazing Mexican food available for purchase in the on-site restaurant on the ground floor.
Parking: Street, Lot, Parking ramp all within 1 block
Location: 2 Story restaurant and event space in the heart of Downtown Green Bay. Beautiful center atrium.
*This is an alcohol, drug and violence free event.
Produced by Effundo and Vang X.
More Workshops Near Here
No listings found
Classes Near Here
Festivals Near Here
No listings found