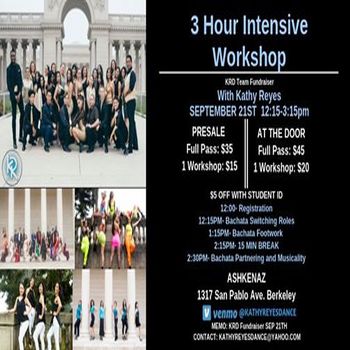 Saturday, 21 September 2019
1317 San Pablo Ave, Berkeley, California 94702
Location:
San Francisco, USA
Like it? Share the event.
3 Hour Bachata Intensive Workshop- Kathy Reyes Team Fundraiser
There is no description available. Please check the link for more information.
More Workshops Near Here
Sunday, 20 October 2019

1317 San Pablo Ave, Berkeley, California 94702
Classes Near Here
18 Harlan Place, San Francisco, CA 94108

Salsa

Notice: Due to competition for space between Bar happy hour crowd and the salsa class, the classes by Jake are suspended for the time being. . . Latin Vibe...
Festivals Near Here