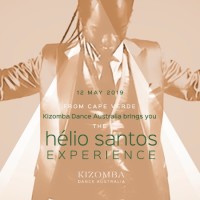 Sunday, 12 May 2019
197 Boundary Street, West End QLD, Australia
Location:
Brisbane, Australia
Like it? Share the event.
☆ Kizomba ~ The Helio Santos Experience
Kizomba Dance Australia is so excited to have Helio Santos with us again this year! ♡
The Brisbane Kizomba community is so lucky to have this gentle and inspiriting teacher back again, lets give him a huge welcome ♡
Helio Santos is a very inspiring and influential figure in the Kizomba world, his Cape Verdean and Spiritual background come together and give way to his unique methodologies and conceptions of Kizomba and what it can mean in your life.
He will test your concepts as well as what you can expect from your dancing experience. He will open your mind and heart and broaden your love for yourself and others around you.
You should not miss this amazing human arriving in just a few short weeks.
♡ Read more about Helio Santos on his beautiful website ♡
https://www.helio-santos.com
WORKSHOPS: (prerequisite, must know all basics and Saida!!)
MAY 12th
11:00-12:00 ~ Kizomba Combos
12:00-1:00 ~Tarraxa Movements and Techniques
Lunch Break ~ 1:00 to 1:30
2:00-3:00 ~ Kizomba Intricate Techniques
3:00-5:00 ~ The Sibitchi Dance - an amazing healing experience
KIZOMBA SIOREE PARTY
5:30 - 9:30 @ Lychee Lounge
PRICES GENERAL:
$45 Per one hour workshop
$60 The Sibitchi Dance (2 hours)
$10 for party ONLY
$150 All 5 hours - includes party entry!! ☆ BEST VALUE ☆
❗️RECEIVE 10% DISCOUNT ON YOUR FULL PASS BEFORE APRIL 30 ❗️
PAYMENT OPTIONS HERE
1 - ? Bank deposit
Severine Coulanges
ANZ
BSB: 014010
Account: 282427626
Please include your name and Helio in the description!
2 - ? Cash
3 - ? TryBooking
https://www.trybooking.com/BBVHS
LOCATION:
~ Rio Rhythmics Studio 2 (UPSTAIRS)
197 Boundary Street, West End - UPSTAIRS
More Workshops Near Here
No listings found
Classes Near Here
Bossa Latina, Evesham Street, Moorooka QLD, Australia

Bachata, Bolero, Forro, Gafieira, Salsa, Zouk

Bossa Latina is a Brisbane based latin dance school, providing dance classes for adults, by knowledgeable and friendly dance teachers. Bossa Latina is all about learning to dance YOUR way. We want you to feel comfortable, to have fun, and to learn how to dance in your own unique style. From Brazilian Zouk, Salsa & Bachata, to Bolero, Forró & Samba de Gafieira, we love it all and look forward to sharing it with you!
19 Burke Street, Woolloongabba
197 Boundary Street, West End

Kizomba

♡ WEEKLY KIZOMBA CLASSES IN BRISBANE ♡ Wednesday: 7:00pm Intermediate Level Kizomba ~ 8:30pm Semba Open Level  Dance Works: 19 Burke Street, Woolloo...
163 Boundary St, West End, Q 4101

Bachata, Bolero, Cuban-Salsa, Forro, Gafieira, Kizomba, Merengue, Salsa, Samba, Tango, Zouk

Rio Rhythmics offers a unique Latin dance curriculum starting with Latin Dance Starter where you unlock the basics of 6 of the most popular styles in just 6 weeks. From there you can continue onto the full Foundation program which encompasses 8 different styles. Other Starter programs include, Samba, Tango and Cuban Salsa Starter courses.
Festivals Near Here
Friday, 07 June 2019

Location:

Sunshine Coast, Australia
Thursday, 18 July 2019

Location:

Gold Coast, Australia

Mantra on View Hotel, View Avenue, Surfers Paradise QLD, Australia
Discount Tickets

$20 Discount on Passes

Friday, 23 August 2019

Location:

Gold Coast, Australia

3105 Surfers Paradise Boulevard, Surfers Paradise, Queensland 4217
Friday, 20 September 2019

Location:

Brisbane, Australia

Vulture St, Woolloongabba QLD 4102, Australia