Join the social network just for dancers. Here are some of the features we designed just for you.
News Feeds
News Feeds just for Dance! No more worries about getting unfriended from non-salsa friends for posting that cool dance vid. Only your dance friends will see it and they will love it!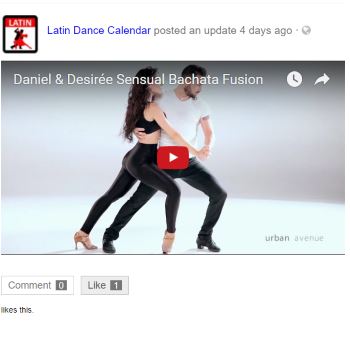 Dancer Profiles
What type of dancer are you? Profiles about all the dance stuff that you love. Show your friends which styles you dance, set your location so you can find all the dance stuff near you.
Unlimited Salsa Friends
Do you have thousands of dance friends? According to some social networks this isn't possible. Now you have no limits, no need to clean out your friendships or get selective about who you add.
Groups
Groups just about Latin dancing all in one place. No more need to join 20 groups all missing content. All the salsa groups are in one place.
Notifications
Notifications for the important stuff. Fine tune email settings so you can setup which notifications you want and which you don't, simple.
Follow Dance Pages
Only see the dance stuff you want. Follow the pages you want to hear more from and ignore the ones you don't.
+ Lots more – Messages, Settings and so much more
So much more waiting. Come join, find some friends and enjoy the network made just for you!
Coming Soon…
We have plenty of stuff in the works, this is a hint of stuff we are currently working on…
RSVP – Have all your salsa events in one list, view where your salsa friends are going this week.
Reviews – Review your favorite schools, organizers, festivals and more. Tell people the good, bad and the ugly side of the organizers.
Better invites – We are building better ways so you get invited to things you have been to before and more.
More ways to login – Currently we are using Facebook as it reduces the amount of spam, soon there will be more options for those that don't have Facebook (or contact us and we can manually set you up).
Come join your dance friends and enjoy the social network built just for you.