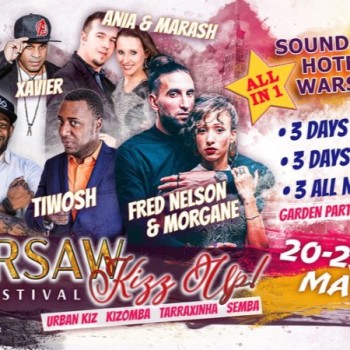 Friday, 20 May 2022
Sound Garden Hotel, Żwirki i Wigury 18, 02-092 Warsaw, Polen
WARSAW KIZZUP FESTIVAL IN POLAND
‼️WARSAWKIZZUP! FESTIVAL IN WARSAW POLAND‼️
🗓️20-23 MAY 2022
COVID guarantee. If event will be cancelled of the pandemic you will get a full refund.
Book with confidence!
Tickets: https://bit.ly/3jXybb0
ALERT: To all Urban Kiz, Tarraxinha, Tarraxxo, Kizomba, Semba peeps.4
Free up your agenda for THE not to be missed Kizomba Festival in Warsaw:
WarsawKizzUp Festival ➡The first Edition ➡ All in 1 Venue.
You are invited for:
✅ 3 days workshops with the best artists,
✅ 3 days night parties with the best Dj's,
✅ 3 days of social dancing with the best dancers, and some great shows.
Warsawkizzup Festival will take place at very exclusive place:
Sound Garden Hotel Warsaw, 5 minutes from Warsaw Airport.
We have for you:
✅5 minute to the hotel from Airport by uber 5 euro
✅Amazing prices ➡ check classic room 54 euro 2pp room/1 night
@Sound Garden Hotel Airport Warsaw
✅Breakfast just for 13 euro.
An exclusive Hotel, amazing dj's, great national and international teachers, social garden party sea, live kitchen in the hotel restaurant, good shows are the ingredients that will provide the ultimate feeling, and an Awesome festival week-end.
Artists
Artists/ Teacher's line up
✅Fred Nelson & Morgane (confirmed)
✅ Tiwosh ( confirmed)
✅Papelini (confirmed)
✅ Ania& Marek Marash (confirmed)
✅ Xavier & Aleksandra (confirmed)
✅ Remnie (confirmed)
✅Michalina Marczuk Poland (confirmed)
✅ Claudio Blackman Holland(confirmed)
Taxi teams / dancers
✅ Unit'kiz
✅more to confirm
Confirmed DJs
DJ's lineup
✅ Dj Snake's (confirmed)
✅ Dj Morelasoul (confirmed)
✅ Dj Maximelody (confirmed)
✅ Dj Diablo (confirmed)
✅ Dj Lowelo (confirmed)
✅ Dj Dee (confirmed)
✅ Dj Desmo Punk Poland (confirmed)
✅ Dj Kapitual "Semba" (confirmed)
✅ Dj DVA Poland
✅ Dj Djemix France
More to come soon
More Festivals Near Here