You may be looking for...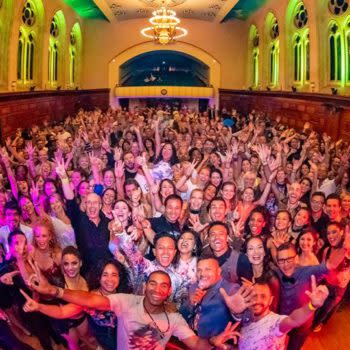 Friday, 19 July 2019
guildhall square, PL1 1DU Plymouth
10% Discount on Full Passes
Discount Tickets
Instructions
Add the tickets to the cart on the Tickets Page
If the discount is not automatically applied then click the "Discount Code" and enter the code "LDC"
Click the Apply button and you'll see the discount
Tropical Summer Festival 2019
MiSalsaCubana Presents:
🌟 The FAMOUS TROPICAL SUMMER DANCE FESTIVAL 4th Edition!!!
Over 1,000 dancers coming this year!
19 - 22 JULY 2019!
A Festival dedicated to all type of dance styles and music!!!
CUBAN FEST, SALSA FEST, BACHATA FEST, KIZOMBA FEST & Much more!!!
🎵 Everyone is welcome from Absolute Beginners up to Advance and teachers levels, we got it all covered! 🎵
🎵 LIVE SALSA BAND ON SUNDAY 🎵
• Rene Alvarez and the Cuban Quintet
🏖 Unmissable Splish Splash Sunday afternoon 🏝
💎 World Most Famous Sensual Bachata Stars
Daniel & Desiree joining us in 2019! 💎
We always handpicked some of the best artists in the UK and internationally to bring to you only the best!!! We carefully designed all our Workshops for everyones needs and to challenge you to be a better dancer and of course to have fun with us the TROPICAL WAY!!!
#TSFest 2019
#TSFest19
Visit our brand new website for all the latest news!
www.tropicalsummerfestivalplymouth.com
ONLY 100 tickets left for women ( Followers )
Passes in Advance and door prices.
★​ £​109 Full weekend Pass Until 1st July ( £​119 from 1st July until 17th July and £​140 on the door )
★​ Friday Full Pass £​30 in advance until 17th July ( £​40 full pass on the door or £​20 after 10:00pm for party only )
★​ Saturday Full Pass £​75 in Advance until 17th July ( £​90 on the door, evening pass with classes £​30 or £​25 after 10:00pm for Party only )
★​ Sunday Full Pass £​35 include Live Salsa band in Advance until 17th July ( £​45 on the door, evening pass with classes plus Live Salsa Band £​20 )
★​ Thursday pre Party Full pass only £​15 which include a free drink 🍷 or £​8 if you have a full weekend pass with a drink.
Tickets can be found on our website
https://www.tropicalsummerfestivalplymouth.com
• Avoid paying service charges by paying direct to our bank account. Just get in touch with Misael 07794432223
THANK YOU, MUCHAS GRACIAS, OBRIGADO, MERCI, GRAZIE, DANKE EVERYBODY!!!!
We had so much fun last that we are already looking forward to 2019 Festival!!!
★★★ THE 4TH EDITION AND OFFICIAL TROPICAL SUMMER DANCE FESTIVAL AT THE HEART OF PLYMOUTH.
BE PART OF IT
ANY ENQUIRIES PLEASE EMAIL [email protected]
★★★ VENUE ADRESS:
THE PLYMOUTH GUILDHALL
Guildhall Square,Plymouth PL1 1DU
★ MAIN EVENT AT THE PLYMOUTH GUILDHALL ★
★★★ Sunday we will do our famous SPLISH SPLASH (extra charge may apply) if the weather is with us plus Sunday daytime workshops and much more!!!
What to expect:
★ 5-6 workshops rooms
★ 4 Mega night Fiestas ( Thursday, Friday, Saturday & Sunday )
★ 3 to 4 Party rooms
🌟 LIVE CUBAN SALSA BAND 🌟
★ INTERNATIONAL AND NATIONAL ARTISTS/DJ'S/PERFORMERS/MCs.
★ Professional Photographers
★ SALSA ROOM
★ CUBAN ROOM
★ BACHATA ROOM
★ KIZOMBA ROOM
★★★ Sunday we will do our famous SPLISH SPLASH (extra charge may apply)
( DONT MISS IT! ) Just check the pictures and you will see why!!!
★★★★★★★★★★★★★★★★★★★★★★★★★★★★★★
Artists for next year:
Another Half of artists to be Reveal in 2019!
In no particular order:
• Daniel y Desiree ( WORLD most Famous Sensual Bachata Artists ) from Spain 🇪🇸
• Sergio Sanchez Berlanga Spain 🇪🇸
( World Bachata Masters )
• Marichu Guidonet Esteve Spain 🇪🇸
( World a Bachata Masters )
• DJ Babacar
( International Kizomba Mega Star 🌟 )
• Macarena Paton Spain 🇪🇸 Kizomba & Bachata queen 👸
• Papito Chango ( Yo vengo de Cuba ) 🇨🇺
• Esther Maria Dominguez Vazquez 🇪🇸
• Rico K Suave UK 🇬🇧
• Adda Dociu UK 🇬🇧
• Yanet Fuentes T Cuba 🇨🇺
• Osbanis Tejeda Cuba 🇨🇺
• Anneta Kepka Poland 🇵🇱
• Rasa Pauzaite Full Lithuania 🇱🇹
• Angel Peinado Spain 🇪🇸
• Ami Emirato Scotland 🏴󠁧󠁢󠁳󠁣󠁴󠁿
• Ule Ahi Na Ma Cuba 🇨🇺
• Damarys Farres Cuba 🇨🇺
• Ariel Rios Roberts Cuba 🇨🇺
• Alain Hernandez Cuba 🇨🇺
• Leandro Charanga Cuba 🇨🇺
• Shack Ajuwa UK 🇬🇧
• Dani K ( Otradanz ) Uk 🇬🇧
• Mauricio Reyes UK 🇬🇧
• Fadi K Kassem UK 🇬🇧
• Alex Rasero Spain 🇪🇸
• Laura Ann Williams UK 🇬🇧
• Sol Hissirou France 🇫🇷
• Laura Fogliata Italy 🇮🇹
• Daniel Chong
• Pebbles Adamson UK 🇬🇧
• Edwin Rodriguez Ovalle Mexico 🇲🇽
• Iria Luz Suárez Venezuela 🇻🇪
• Sika Sika Angola 🇦🇴
• Khalifa Forte
• Richard Voogt South Africa 🇿🇦
• Manon Batrel France 🇫🇷
• Sorush Crazy Lion 🦁 Sweden 🇸🇪
• Tamba Salsache Hissirou France 🇫🇷
• Emanuela Lafrate Italy 🇮🇹
• Abu Pachanga UK 🇬🇧
• Nigel May & Sarah Jamaica 🇯🇲🇬🇧
• Super Dixon Mozambique 🇲🇿
• Stuart Thomas UK 🇬🇧
• Blaise Mwami UK 🇬🇧
• El Ceprino UK 🇬🇧
• Dennis Dale UK 🇬🇧
• DJ Muula UK 🇬🇧
• Jeydikson Lima UK 🇬🇧
• Amanda Hawley UK 🇬🇧
Photografer/Videographer
🎥 Crazy Lion Productions
More to come!
⭐️ Booked now by following this link
https://www.universe.com/tropicalsummerfestival2019
But trust us get your pass early as you wont want to miss what we have plan for you!
★★★ Official Photographers and Videographers ★★★
WE HAVE A GOOD TEAM OF TAXI DANCERS FOR YOU LADIES!!!!
We recommend getting your tickets early at the best price.
After our very successful first, Second and third Tropical Festival, We are expecting to sell out really fast!!! Book early and take advantage of our first release sales!!!
FOLLOW THE LINK BELOW FOR TICKETS!!
https://www.tropicalsummerfestivalplymouth.com
★★★★★★★★★★★★★★★★★★★★★★★★★★★★★★
GREAT NEW VENUE , Sprung Wooden Dance Floor, Central location with very easy access from everywhere. * lots of parking next to the venue and nearby.
★★★ The Plymouth Guildhall is a commanding an imposing position on Royal Parade, our VENUE THE PLYMOUTH GUILDHALL is situated in the heart of the city at the crossroads of the city's modern shopping centre and the approach to the historic Plymouth Hoe and magnificent foreshore. The perfect place TO HOST OUR TROPICAL SUMMER FESTIVAL and for our Latin community acroos the UK...
Airport:
Closest Airports to Plymouth
Exeter Airport 1 hour from Plymouth
Newquay Airport 1 hour from Plymouth
Bristol Airport 2 hours 30 minutes from Plymouth
Any London Airport 3 to 5 hours from Plymouth
Other Transports:
By Train: All mayor routes will have a link to Plymouth
Plymouth train Station is only 5 minutes by taxi or 15-20 minutes walk to the Plymouth Guildhall
By Bus:
National Express or MegaBuss will be only 5 minutes walk to the Venue.
Ferry From Europe to Plymouth follow this link
http://www.brittany-ferries.co.uk/ferry-routes/ferries-france/plymouth-roscoff
Hotels and B&B:
For more info and to get your tickets please contact us on: [email protected]
Please 'Like' and Follow our Pages
Our official Pages
https://www.facebook.com/MiSalsaCubanaUk/
https://www.facebook.com/PlymouthTropicalSummerFestival/
★★★★★★★★★★★★★★★★★★★★★★★★★★★★★★
All details are as yet provisional and subject to change.
More Festivals Near Here