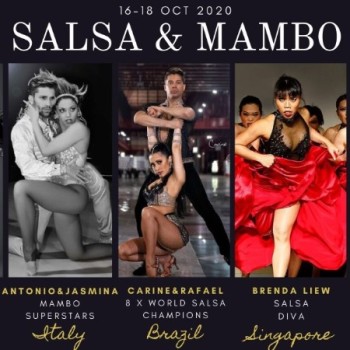 Friday, 16 October 2020
Roundhouse, Anzac Parade, Kensington NSW, Australia
Location:
Sydney, Australia
Sydney Salsa & Mambo Convention
The Sydney Salsa & Mambo Convention is a brand new event like no other in Australia. It will bring back the vibe of the Sydney Salsa Congress days and fuse it with the sophisticated feeling of NYC Palladium.
Born from a passion for Salsa and Mambo, this 3-day and 4-night event will bring together the best dancers in Australia and overseas all under one roof. Compete, cheer, learn, perform, watch and dance throughout the weekend.
With an approach that goes beyond dancing, the SSMC invites you to learn about the history of Salsa and Mambo, and enjoy a whole weekend of shows, live concerts, parties, workshops and bootcamps where the roots and traditions of these dance styles meet the flair of modern dancing.
And there is more! SSMC will be running the qualifiers for the WLDC 2019, taking place in Colombia later this year. Don't miss the chance to join #teamaustralia and represent Aussie land on the world stage.
Salseros and Mamberos out there, you can't miss this event! And for the Bachateros, our friends from SIBF will be running the Bachata room.
More Festivals Near Here