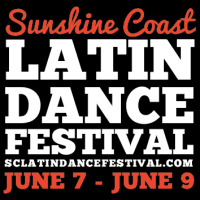 Friday, 07 June 2019
Location:
Sunshine Coast, Australia
$10 Discount on Full Passes
Discount Tickets
Instructions
Visit the Tickets Page
On the payment screen enter the code LDC in the Enter coupon code here... section and click Apply Coupon
The discount will be applied to the total
Sunshine Coast Latin Dance Festival
Join us for 2 nights and 2 days of festival fun as we celebrate latin dance and culture!
The Sunshine Coast Latin Dance Festival is set in the beautiful surrounds of Queensland's Sunshine Coast. Join us for a spectacular weekend bringing the finest International, National and local latin dance champions for 2 spectacular nights and days of dance and fundraising!
* Performances from local, national and international latin dance champions all weekend
* A spectacular evening, Latin Charity Gala, with a 3 course meal, a World class latin dance showcase for the local community and friends to enjoy, DJ party and dancing
* Latin Dance Workshops (Salsa, Bachata, Zouk, Samba and Reggaeton)
* Latin Dance Parties (Saturday night's Gala with 2 rooms dancing Salsa/Bachata and Zouk/Kizomba)
* Beach Party
The Sunshine Coast Latin Dance Festival raises awareness and funds for Cystic Fibrosis Queensland, in support of the 65 individuals and families living with this chronic disease on the Sunshine Coast.
More Festivals Near Here
Friday, 26 April 2019

Location:

Sydney, Australia

Roundhouse, Anzac Parade, Kensington NSW, Australia
Saturday, 27 April 2019

Location:

Sydney, Australia

Village Performing Arts Centre. Building 4/85 O'Riordan St, Alexandria NSW 2015
Friday, 10 May 2019

Location:

Gold Coast, Australia

Australian Dance Cup - 22 View Ave, Surfers Paradise, Queensland 4217
Discount Tickets

$15 Discount on Passes

Friday, 07 June 2019

Location:

Melbourne, Australia

The Night Cat, 141 Johnston St, Fitzroy
Saturday, 15 June 2019

Location:

Sydney, Australia
Thursday, 18 July 2019

Location:

Gold Coast, Australia

Mantra on View Hotel, View Avenue, Surfers Paradise QLD, Australia
Discount Tickets

$20 Discount on Passes

Friday, 23 August 2019

Location:

Gold Coast, Australia

3105 Surfers Paradise Boulevard, Surfers Paradise, Queensland 4217
Friday, 20 September 2019

Location:

Brisbane, Australia

Vulture St, Woolloongabba QLD 4102, Australia