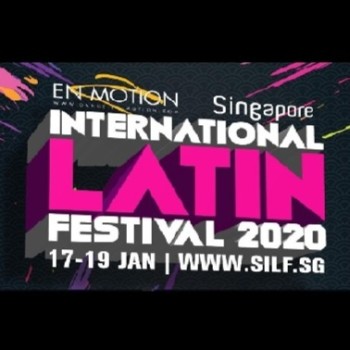 Friday, 17 January 2020
Orchard Link, Scape, Singapore
Singapore International Latin Festival 2020
Proudly organised by En Motion Dance School, and being one of the largest Latin Dance events in Asia for the past 13 years. The first International Bachata Festival in Asia has now grown to a full Latin Festival, featuring Salsa, Bachata and other Latin dances.
With 2 full days of workshops and 3 full nights of parties, the event aims to blast your weekend off with loads of memorable experiences to take back home!
With a host of International renowned dance artistes invited to the event, you will get the chance to learn from some of the best dancers in the world!
The workshops planned are catered to all level dancers. There will be introductory classes, social dance routine, performance boot camp, lifts and tricks, and many more!
Be sure to witness 3 nights of astonishing performances brought to you by various International dance artistes and local dance troupes. You will also get to watch the Asia Latin Championship, where contestants from all around Asia gather to compete for the Salsa and Bachata Professional and Amateur titles.
Last but not least, you can social dance with many worldwide dancers (about 1000 expected attendees) and you would definitely want to watch some of the best social dancing by our invited guest artistes, they can be as entertaining as their spectacular performances!
Artists
Fernando Sosa and Tropical Gem Dance Company
Daniel & Desiree
Chiquito and Dominican Power
Marcelo y Belen
Pablito Stellato
Ezgi Zaman
Sergio y Marichu
And many more artistes.
Confirmed DJs
More Festivals Near Here