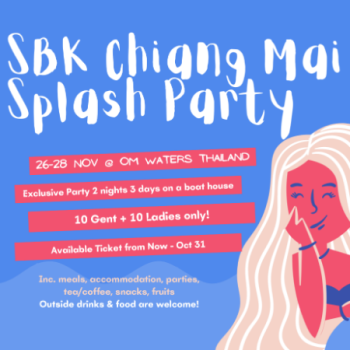 Friday, 26 November 2021
Om Waters, Sri Lanna National Park, Ban Pao, Mae Taeng District, Chiang Mai, Thailand
Location:
Chiang Mai, Thailand
SBK Chiang Mai Splash Party 2021
Keep Calm and Dance
Let's make Exclusive Party in Chiang Mai!!
Let's take over this floating house for our first SBK Chiang Mai Outdoor exclusive Party 2021 this November!
***** SBK CHIANG MAI SPLASH PARTY 2021 *****
----------- PARTY ONLY, NO WORKSHOP! ------------
Only 20 Tickets are available! (10 Gentlemen & 10 Ladies)
Super Early Bird is now on sale till March 31 only! Take it before the price goes up!
If you love dancing for more hours, this is the only Outdoor Party you can't miss out on for November 2021!
$$$ ONLY 20 TICKETS AVAILABLE $$$ (Check updated price ticket on our event link)
Reserve your spot ASAP for SUPER EARLY BIRD TICKET before the price goes up.
------ Now till March 31 ------
Agenda (briefly)
*We will inform "Meal Serving Times" for Sat & Sun on Friday at Om Waters Thailand
Friday, 26th November 2021
12 pm: Lunch
1 pm: Party started
- Water activities are ready for you all days
- Dinner
- Party continues
Saturday, 27th November 2021
Leisure time
1 pm: Party Started & Continues till night
Sunday, 28th November 2021
1 pm: Party Started & Continues till 3 pm
Get ready for leaving the Venue back to the shore
*Speed Boat Fee and The Park Entrance Fee are NOT INCLUDED.
**Speed Boat Fee can be shared among 7-8 persons.
WHAT TO BRING?
swimming suits
sunglasses
mosquito repellent (if needed)
extra food & drinks, snacks, etc.
medicines (if needed)
The venue has basic accommodation with facilities. SBK Chiang Mai asked for taking over the whole place for us ALL DANCERS to organize the SBK Chiang Mai Splash Party 2021
For more details, contact Aey (Siri)
Tel. 0897046166
Line ID: descheveux
WhatApps: +66 0897046166
Email: [email protected]
Contact Aey 0897046166
Line ID: descheveux
No place to dance, not many parties in Thailand for awhile. LET'S MAKE THE EXCLUSIVE PARTY HERE IN CHIANG MAI !!!!!
Event Link>>>
https://www.facebook.com/events/773059843309677
Artists
Confirmed DJs
Aey (Siri) Organizer of Kizomba Chiang Mai & SBK Chiang Mai Thailand
More Festivals Near Here