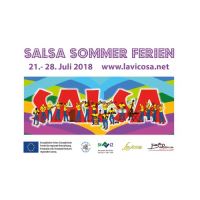 Saturday, 21 July 2018
Rautenkranzer Str. 5, 08209 Auerbach/Vogtland
Festival Deals
Show More Deals
Salsa Sommer Ferien für Familien
Reisebeschreibung
Egal, ob Alleinerziehend oder mit der ganzen Familie, die Salsa Sommer Ferien sind
ein Urlaub mit Tanz, Musik, Parties und vielen tollen Abenteuern für Groß und Klein.
Das Thema 2018 lautet: "Die Sterne von Fania - eine Familien Salsa Show".
Gemeinsam entwickeln Erwachsene und Kinder eine Salsa- Show mit Percussion,
Tanz, Gesang, Schauspiel, Bühnenbildern und Kostümen. Auch Kameramann,
Fotograf und Bühnenarbeiter werden gebraucht. Jeder übernimmt ein Rolle und
kann seine Kreativität entfalten. Am letzten Tag ist dann der große Auftritt vor
Publikum.
Ziel ist es, für Groß und Klein Urlaub mit Musik, Tanz und Gesang zu verbinden.
Im Vordergrund stehen das Miteinander, das Heranführen an Salsa-Musik und Tanz,
sowie das Kennenlernen anderer Kulturen und deren Sprache.
Durch Fördermittel der Europäischen Union ist es möglich, dass jede Familie
(bis 6 Personen) nur 299,-€ Eigenanteil für die Workshops zahlt. Übernachtung, Essen,
sowie die Show-Workshops und ein buntes Freizeitprogramm
werden aus Spenden- und Fördermitteln finanziert und sind inklusive.​
Programm
Anreise am Samstag
täglich 09:00 bis 10:00 Frühstück
täglich 10:00 bis 13:00 Workshops für die Show
(Percussion, Tanz, Malen, Werken, Schneidern, Singen, Sprachunterricht DE/CZ/ES, Eltern werden mit eingebunden)
täglich 13:00 bis 16:00 Freizeit
täglich 16:00 bis 17:00 Action-Programm
täglich 17:00 bis 18:30 gemeinsam Essen vorbereiten, Zutaten kauft das Orga-Team
täglich 18:30 bis 19:30 Wiederholung / Üben von Gelerntem
täglich 19:30 geinsames Essen
Auftritt mit anschließender Salsa Party am Freitag
Abreise am Samstag
Subscribe to FREE Email Updates in
Germany
Join over 5,000 Latin Dancers receiving emails for Dance Updates, Discounts, Giveaways and more.
More Festivals Near Here
Discount Tickets

5% Discount on all passes

Tuesday, 19 June 2018

Location:

Rovinj, Croatia
Friday, 22 June 2018

A Lo Cubano Festival, Gablonzerstr.9, Karlsruhe, Germany, 76185
| | |
| --- | --- |
| | Friday, 22 June 2018 |
Discount Tickets

5% Discount on all passes

Monday, 25 June 2018

Location:

Rovinj, Croatia
Thursday, 28 June 2018

Sverige Dansar, Lysingsvägen, Västervik, Sweden, 59352
| | |
| --- | --- |
| | Thursday, 28 June 2018 |
Thursday, 05 July 2018

Benidorm BK Congress, C/Luis Prendes, Benidorm, Spain, 03502
Thursday, 05 July 2018

Valis Resort, Stathmos Agrias, Vólos, Greece, 37300