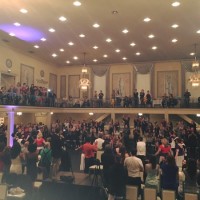 Friday, 18 January 2019
4201 Bigelow Blvd, Pittsburgh, Pennsylvania 15213, USA
Location:
Pittsburgh, USA
Salsa Fuego Congress
Salsa Fuego 2019 is an intimate & personal Dance Congress with exhilarating social dancing, diverse competitions, and inspiring workshops! Visiting are multiple World Champions including Darlin Garcia & Anya Katsevman! Competing Dance teams come from all over the Midwest, Canada, and East Coast and include Salsabrositas & Jersey City Touch!
We have the warmest atmosphere even in the coldest weather... You will have a great time learning, dancing, and interacting with the friendliest group of people! Dances are held at the Twentieth Century Club in magnificent chandelier Art Deco Ballrooms. A variety of 28 Workshop class topics range from beginner to advanced dancing.
Dates: Jan 18, 2019 at 5 PM – Jan 20, 2019 at 10 PM
Location: 4201 Bigelow Blvd, Pittsburgh, Pennsylvania 15213
Tickets: http://www.salsafuego.org/
Email: [email protected]
Parking available at the Hotel and nearby Soldiers and Sailors Memorial underground parking until midnight, free street parking after 6 PM and before 7 AM.
https://www.facebook.com/events/987994311368892/
"Where the instructor doesn't need a microphone.
Where the top dancers dance with everyone.
Priceless."
More Festivals Near Here
Discount Tickets

$50 Discount on Full Passes

Thursday, 20 June 2019

Location:

Washington DC, USA

5000 Seminary Rd, Alexandria, Virginia 22314
Wednesday, 03 July 2019

3801 S Las Vegas Blvd Las Vegas, Las Vegas, Nevada 89109
Thursday, 04 July 2019

Location:

Washington DC, USA
Thursday, 04 July 2019

9840 International Drive, Orlando, Florida 32819
| | |
| --- | --- |
| | Thursday, 11 July 2019 |
Friday, 12 July 2019

Location:

San Francisco, USA
Thursday, 18 July 2019

Location:

San Antonio, USA

San Antonio Marriott Rivercenter - 101 Bowie Street, San Antonio, Texas 78205
Friday, 19 July 2019

Location:

San Francisco, USA

1800 Old Bayshore Hwy, Burlingame, California 94010