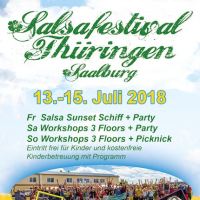 Friday, 13 July 2018
Am Sportplatz 1, 07929 Saalburg
Festival Deals
Show More Deals
Salsa Festival Thüringen
Das Salsafestival Thüringen ist ein familiäres Festival. Hier sind Singles genauso willkommen wie Paare - ohne und auch gerne mit Kindern. Am Freitag startet das Festival mit einem Salsa Sunset Schiff. Danach geht es im Saal weiter mit der Welcome Party. Samstag um 11 Uhr beginnen die Kurse. 21 Uhr öffnen die Tore für die Gala Party. Am Sonntag morgen finden wieder Kurse in 3 parallelen Räumen ab 11 Uhr statt. Kinder haben freien Eintritt. Während der Workshops am Samstag und Sonntag bieten wir durchgängig kostenfreie Kinderbetreuung mit Programm an. Unser Festival wird auch dieses Jahr mit einem Salsa Picknick am Sonntag ausklingen. Wir freuen uns auf ein schönes Wochenende mit Euch im grünen Herzen Deutschlands.
Subscribe to FREE Email Updates in
Germany
Join over 5,000 Latin Dancers receiving emails for Dance Updates, Discounts, Giveaways and more.
More Festivals Near Here
Discount Tickets

5% Discount on all passes

Tuesday, 19 June 2018

Location:

Rovinj, Croatia
Friday, 22 June 2018

A Lo Cubano Festival, Gablonzerstr.9, Karlsruhe, Germany, 76185
| | |
| --- | --- |
| | Friday, 22 June 2018 |
Discount Tickets

5% Discount on all passes

Monday, 25 June 2018

Location:

Rovinj, Croatia
Thursday, 28 June 2018

Sverige Dansar, Lysingsvägen, Västervik, Sweden, 59352
| | |
| --- | --- |
| | Thursday, 28 June 2018 |
Thursday, 05 July 2018

Benidorm BK Congress, C/Luis Prendes, Benidorm, Spain, 03502
Thursday, 05 July 2018

Valis Resort, Stathmos Agrias, Vólos, Greece, 37300