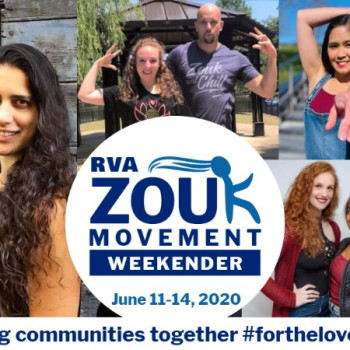 Thursday, 11 June 2020
Location:
Richmond, Virginia
RVA Zouk Movement Weekender
Richmond, we have a WEEKENDER!
For an entire weekend in June, we will have the honor of hosting and learning from community leaders of other growing Zouk scenes surrounding our own. Be part of this very special event and let us all #ZoukAsOne.
ARTISTS:
💙 Alanna & Tiffany (Philadelphia, PA)
💙 Maya Marino (Virginia Beach, VA)
💙 Chinkee Kat (Richmond, VA)
💙 Shannon & Chad (Raleigh-Durham, NC)
💙 DJ WarHoll (Richmond, VA)
💙 DJ Shannon (Raleigh, VA)
💙 More to be be announced
💙 ...and as a big (and I mean BIG!) bonus, we will also have international instructors RACHEL & RENATO RAMALHO (BRAZIL) as part of this community-building event!!!
Trust me, this is NOT something you'll want to miss.
All workshops assume fundamental knowledge of Brazilian Zouk. Attendees MUST take the bootcamp on Thursday, June 11th or complete a progressive series learning 8 of the fundamental moves prior to attending this event.
TENTATIVE SCHEDULE:
**Subject to change**
💙 Thursday, June 11th (Location TBD)
7:00-9:30pm Brazilian Zouk Bootcamp by Chinkee Kat
💙 Friday, June 12th (Location TBD)
8:00-9:00pm Workshop by Rachel & Renato
9:00pm-2:00am Zouk Party
💙 Saturday, June 13th (Location TBD)
Brunch activity TBD
3:00-4:00pm Workshop TBD
4:00-5:00pm Workshop by Rachel & Renato
5:00-6:00pm Workshop TBD
9:00pm-2:00am Zouk Party
💙 Sunday, June 14th (Location TBD)
1:00-2:00pm Workshop TBD
2:00-3:00pm Workshop TBD
3:00-4:00pm Workshop by Rachel & Renato
After Party TBD
Passes will be available March 1st!
PRICES:
**All sales are final. No refunds**
💙 Bootcamp Only Pass - $30 (can upgrade later and pay the difference)
💙 Early Bird Special - $105 (limited number available!)
💙 Full Pass - $120 (price goes up May 1st)
💙 Party Pass - $30 (two nights of dancing)
#fortheloveofzouk
More Festivals Near Here