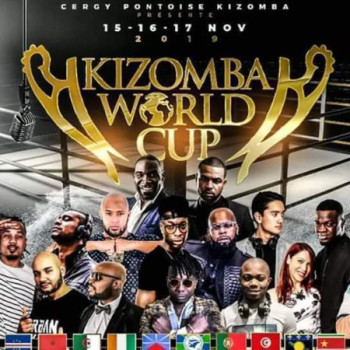 Thursday, 14 November 2019
Mov'Fight Club Chemin du clos, 95650 Puiseux-Pontoise
PARIS Kizomba World Cup Festival 2019
🚨🚨🏆 The Kizomba World Cup 🏆🚨🚨
FRANCAIS PLUS BAS
💥Join us on the weekend of November 15th to 18th for the Kizomba World Cup Festival. during this weekend you will be entitled to a pre-party, 3 parties, workshops and the opportunity to attend the most anticipated contest of the end of the year the kizomba world cup contest.
🚨Programme (To be confirmed)🚨
Thursday pre-party
21h - 22h workshop
22h - 03h party
💥Friday
16h - 20h Sociale room
22h - 23h Workshop
23h - 08h Party
💥Saturday
11h - 14h Workshop
14h - 08h sociale+ party 18h non stop
💥Sunday
11h - 14h Workshop
14h - 04h Finale of the contest+Party
🚨🚨🚨🚨The Contest🚨🚨🚨🚨
💥contest has teams with couples of dancers who represent their nation in this following way:
💥- The country of origin for leaders AND follower for half of the couples.
💥- The country of origin for EITHER leader OR follower for the others half of the couples
🚨A head coach will put together a roster of 8 couples following these rules.
🚨All countries will have to compete in all categories (Semba show, Kizomba, Urban kiz, Tarraxinha, Afro and Battle 4vs4)
💥For the team battle, 4 couples will be chosen by the head coach to face a team from a different country. Each couple has only a try. The style for each team will be drawn before each battle.
🚨Depending on the number of countries available, groups will be made, round of 16, quarter-finals, semi-finals, third place play-off and final
🚨Once countries participating, 8 couples max, and groups made, the battles will be on the ring.
💥The head coach will have to choose the right couple to represent their country on a battle depending on the category and challenge announced on the ring. Once the head coach will choose and advice the couple, the battle will be able to start.
💥Warning : A couple of dancers won't be able to make more than one battle per game. (Besides the team and afro category)
🚨In order to challenge the work of the head coach, a couple of dancers won't be able to be together for two consecutive battles.
💥Example : Game 1 France Brazil the couple formed by A and B
For the game 2, they must find another dance partner to compete but A and B will be able to come back together for game 3
💥Each battle will be graded by a jury. The points will be given in the following way : Three points for a win, a point for a tie game and no point for a loss.
💥The final tournament will be a single elimination game.
https://www.weezevent.com/kizomba-world-cup
accomodation
hotel premiere classe less than 1minute by walk
https://m.premiereclasse.com/fr/hotels/premiere-classe-cergy-saint-christophe?Classe=
🚨Alex et Dede kizomba semba, Cergy Pontoise Kizomba, La FlyTeam KizAfro et Mov'fight Club🚨 avons le plaisir de vous presenter la kizomba world cup.
🏆La kizomba World cup c'est quoi ?
c'est un concours par équipe, 3 soirées ainsi que des workshop durant 3 jours 3 nuits.
💥Rejoignez nous le weekend du 15 au 18 novembre pour le kizomba world cup.
durant ce week-end vous aurez droit a une pré party 3 soirees, des workshop et la possibilité f'assister au concours le plus attendu de cette fin d'annee le kizomba world cup contest.
🚨Programme (a confirmer)🚨
💥Jeudi pre-party
21h - 22h Cours
22h - 03h Soirée
💥Vendredi
16h - 20h Sociale
22h - 23h Workshop
23h - 08h Soirée
💥Samedi
11h - 14h Cours
14h - 08h sociale non stop +soirée
💥Dimanche
11h - 14h Cours
14h - 04h Finale KWC+Soirée
La participation au concours s'effectue en équipe composée de couples de danseurs représentant le pays d'origine delà manière suivante :
- origine du pays representé leader et follower pour 50% des couples
- origine du pays représenté soit du leader ou du follower pour les autres 50% des couples participant. Ce qui donne 4 couples 100% du pays représenté et 4 couples avec au moins l'un des deux.
🚨Un sélectionneur / entraîneur s'occupera de la sélection des 8 couples selon ces règles.
🚨Tous les pays devront s'affronter pour toutes les catégories (Semba show, kizomba, urban kiz, Tarraxinha, Afro ainsi qu'un team battle 4vs4)
💥Concernant le team battle, 4 couples seront désignés par le sélectionneur afin d'affronter l'équipe adverse. Chaque couple aura droit a un passage. Les combinaisons seront acceptés durant les team battle.la catégorie de chaque team battle sera tirée au sort avant chaque match.
💥En fonction du nombre de pays représentés, des poules seront constituées et des huitième, quart et demi-finale seront organisées avant d'atteindre la phase finale.
💥Une fois les pays représentés, par 8 couples maximum, et les poules constituées, les battle s'effectueront sur un ring.
🚨Le sélectionneur aura pour mission de choisir les couples adéquates pour représenter leur pays lors des battles en fonction des catégories énoncées sur le ring et des challenges lancés. Une fois le couple sélectionné et conseillé le battle pourra débuter.
Attention un couple ne pourra pas faire plus d'un passage par match. (Hormis le team battle+ une autre catégorie).
Pour corser le travail du sélectionneur le même couple ne pourra pas être ensemble sur deux matchs de suite.
Exemple : match 1 France Brésil le couple a+b était ensemble
Pour le match 2, ils devront danser avec un autre partenaire de l'equipe mais pourront redanser ensemble au match 3.
🚨Chaque battle sera noté par un jury sélectionné avec soin. Les points seront attribués comme suit: trois points pour une victoire, un point pour un match nul et aucun point pour une défaite.
La phase finale, quant à elle, se fera à élimination directe.
Lien billetterie
https://www.weezevent.com/kizomba-world-cup
Artists
💥Alex & Dede
💥Mr Tecas
💥Moun Urban kiz
💥Mike Even's
💥Davy & Diana
💥Jordan-Joy william
💥Dywen & Mathilde
💥Moussa Diop
💥Booka & Lowrrayne
Confirmed DJs
💥Dj Zayx
💥Dj Madiss
💥Dj Lass
💥Dj Tecas
💥Dj Stefanio Lima
💥Dj Leda
💥Dj Nao
💥Dj Stou
💥Dj Bokoss
💥Dj Haemer
More Festivals Near Here