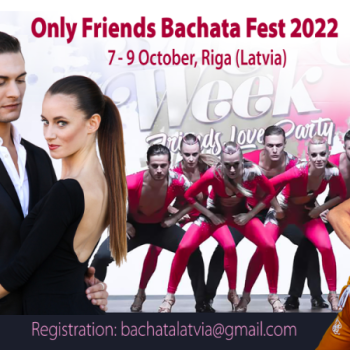 Friday, 07 October 2022
Krimuldas iela 6, Vidzemes priekšpilsēta, Rīga, Latvija
Only Friends Bachata Fest 2022
Location: Latvia, Riga,
Event studio, Krimuldas street 6
Dates: 7 - 9 October, 2022
Description:
Already 6th time, all workshops/parties related to this beautiful dance - BACHATA! Get ready for blast of emotions!
Parties- 70% bachata 30% salsa and kizomba
Some of the best international and local dance instructors will be teaching at the Only Friends Bachata Fest 2022. The event will last for 2 days and 3 nights, and you will have a chance to participate in Bachata workshops, enjoy excellent performances and have fun at amazing dancing parties. This event is organized to celebrate new knowledge, holidays, relaxation, socializing at the international level, to meet new people and get extremely positive emotions.
Workshops level: from intermediate to advanced dancers.
All event in one big 300m2 hall.
AMAIZING STARS WILL BE WITH US AGAIN! ❤
ANDREA AND SILVIA
3 TIMES WORLD BACHATA CHAMPIONS AND TV SHOW PERFORMERS WITH THEIR TEAM EXTRAVAGANCE DANCE COMPANY
Dancers:
Andrea & Silvia (Italy)
Simone & Jessica (Italy)
Abdel (Cuba) & Lety (Spain) (Abdel y Lety Bachata Flow)
Riccardo Recanati (Italy)
Mostafa el Farao (Norway)
Ovidijus & Viktorija (Lithuania)
AND SOME MORE…
DJ:
DJ Free (Turkey)
DJ Kasra (Norway)
DJ El Farao (Norway)
DJ Ricky R (Italy)
FULL PASS:
Full pass - 40 EUR till 10.01.2022.
Full pass - 50 EUR till 10.02.2022.
Full pass - 60 EUR till 10.03.2022.
Full pass - 70 EUR till 10.04.2022.
Full pass - 80 EUR till 10.05.2022.
Full pass - 90 EUR till 10.09.2022.
Online registration will close 10.09.2022.
100 EUR at the door
1 workshop – 10 EUR at the door (there will be around 12 workshops).
PARTIES: Party pass 25 EUR on the spot.
Friday 10 EUR at the Door
Saturday 15 EUR at the Door
Sunday 5 EUR at the Door
INFORMATION AND REGISTRATION:
Email - [email protected]
Artists
ANDREA AND SILVIA
3 TIMES WORLD BACHATA CHAMPIONS AND TV SHOW PERFORMERS WITH THEIR TEAM EXTRAVAGANCE DANCE COMPANY
Dancers:
Andrea & Silvia (Italy)
Simone & Jessica (Italy)
Abdel (Cuba) & Lety (Spain) (Abdel y Lety Bachata Flow)
Riccardo Recanati (Italy)
Mostafa el Farao (Norway)
Ovidijus & Viktorija (Lithuania)
AND SOME MORE…
Confirmed DJs
DJ:
DJ Free (Turkey)
DJ Kasra (Norway)
DJ El Farao (Norway)
DJ Ricky R (Italy)
More Festivals Near Here