You may be looking for...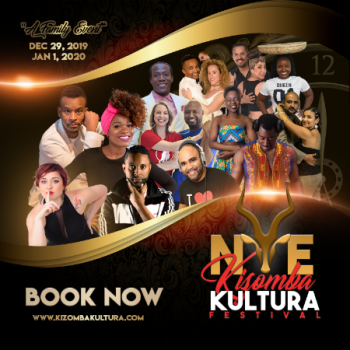 Sunday, 29 December 2019
GreenTree Inn & Suites Phoenix Sky Harbor, 4234 S 48th St, Phoenix, AZ 85040, USA
New Year's Eve Kizomba Kultura Festival
Escape Winter and join us for a classy 3 day of Afro-Caribbean Music, dance and cultural delight.
We are proud of the unique family atmosphere we have created, where Queens and Kings (you) are celebrated, moments are cherished, dance skills are improved, connections are enhanced, delicious cuisine units us, elegance is beauty and cultures are exemplified.
This is a full Afro-Caribbean cultural experience. Therefore, ONLY FULL PASSES will be available (no night pass, day pass, workshop pass etc….)
Of course, food is in everything we do so GET YOUR PASS NOW and come hungry.
Artists
ELIZA SALA, ANGOLA, THE NETHERLANDS
EDDY VENTS, GUINEE BISSAU, USA
LUCIA NOGUEIRA, PORTUGAL, USA
KIKI EL SILENCIO, TOGO, USA
BATUKADERA, CAPE VERDE, USA
ALIZE, HAITI, USA
BADIU & HEATHER, CAPE VERDE, USA
LUIZ & IGNACIA, MEXICO, USA
TONINO & JULIA, CAPE VERDE, ROMANIA
TANIA & CARLOS, MEXICALI, MEXICO
Confirmed DJs
DJ GUELAS, CAPE VERDE, USA
DJ HARVEY, HAITI, USA
DJ BUGSY, USA
DJ DZA, CAPE VERDE, USA
DJ KONTAY, USA
DJ TONINO, CAPE VERDE, USA
More Festivals Near Here