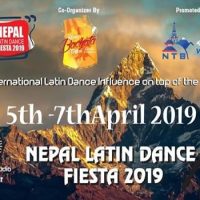 Friday, 05 April 2019
Location:
Kathmandu, Nepal
Nepal Latin Dance Fiesta 2019
Introduction
Fort Salsa Studio is returning with the second edition of Nepal Latin Dance Fiesta (NLDF). The fiesta will welcome instructors, performers and other participants from different countries around the world. It will be a great opportunity for Latin Dance Lovers from Nepal and abroad to share their skills and experiences with each other. While guest instructors and participants from abroad will get to witness the breath taking beauty of Nepal and interact with Nepalese people, the local dance lovers will get an opportunity to learn from international instructors.
The first Nepal Latin Dance Fiesta brought together participants from 12 different countries. The 3 days events consisted of workshops, performances and parties. The involvement of Newcomers and experienced dancers alike made the event a success hence giving a continuation to the fiesta. Latin Dance fanatics in Nepal got an exposure to international style of dancing and learning through the guest instructors from abroad.
The event was a good opportunity to showcase the increasing popularity of Latin Dance in Nepal with the International community. Also, the event is expected to introduce Nepal as a country Recognizing the importance of the event in letting the world know of the diverse lifestyle and cultures of Nepal, Nepal Tourism Board has agreed to be our promotional partner. Their support was commendable in the organization of the first NLDF.
Although there were challenges pertaining to the novelty of the event, the first event got support from the local as well as the international community. Fort Salsa Studio hopes to make this fiesta a yearly event to attract newcomers to Latin Dances and to encourage the already existing dancers to continue dancing.
More Festivals Near Here
Thursday, 04 July 2019

Swiss Town, Hollywood Junction, Sadahalli Post, Devanahalli Road, Bangalore, India 562110
Friday, 19 July 2019

Location:

Kuala Lumpur, Malaysia

Savini Ristorante Italiano & Lounge & Tosca, Double Tree by Hilton.
Friday, 02 August 2019

Location:

Chennai (Madras), India
Thursday, 22 August 2019

1 Farrer Park Station Road, Singapore 217562, Singapore
Friday, 30 August 2019

Location:

Busan, South Korea
Friday, 06 September 2019

Ubud, Gianyar, Bali, Indonesia
Friday, 13 September 2019

Location:

Ho Chi Minh City

Saigon Latin Fiesta - 133 Nguyen Hue street, District 1, Ho Chi Minh City, Vietnam