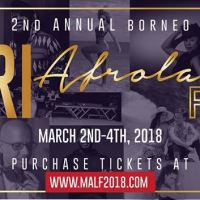 Friday, 02 March 2018
Meritz Hotel Miri, Bintang Megamall, Jalan Miri-Pujut, Miri, Malaysia, 98000
10% discount on Full Pass and Party Pass
Instructions
Visit the Tickets Page and go to the BUY PASS WITH AMBASSADOR CODE area
Enter your details and the Ambassador code LDC18 and click send
Click on Full Pass or Party Pass and the discount will be applied
Featured Video
2nd Miri AfroLatin Fiesta 2018 – 10% Discount
** Miri AfroLatin Fiesta 2018 **
Date : 1 - 4 March 2018
Day : Thursday to Sunday
Venue : Meritz Hotel, Miri
*************************************************************************
La Danza Fitness and Dance Studio Miri is proud to bring the AfroLatin dance festival in Borneo back again for 2018.
The Miri AfroLatin Fiesta 2018 will be happening from 2nd to 4th March 2018 in Miri, Borneo.
Click here to see how much fun we had last year : https://www.youtube.com/watch?v=jNkmZl6HVEo
This year we will be graced by the presence of two world renowned artists, the amazing Jorjet from USA for Bachata & Salsa, and the beautiful Sara Lopez from Madrid, for Kizomba. They will be joined by Kristofer Mencak from Sweden who is among the leading global male Kizomba artist.
We also welcome the artists who will be joining us for the first time this year. They are El Cruz & Nadege (Luxembourg), Mutati (Kenya/Australia) and Dewa & Gung Is (Indonesia).
We are happy to announce the artists who will be back with us again for the second year. They are Azlan & Mabel and DJ Selva (Malaysia), Gupson (Canada), Ana Palma (Philippines), Theo (Norway) and Paris (Australia).
** Miri AfroLatin Fiesta 2018 **
<3 Workshops and Parties <3
There will be a 3 days of workshops covering Salsa, Kizomba, Urban Kiz, Bachata, Pachanga and many more. For parties, we have 4 nights party which includes the pre-party, welcoming party, Gala Night and farewell party.
<3 Tours <3
We have also made sure that for those of you who intend to take time off to see beautiful Sarawak, there will be day trips and tours to some amazing sites. This will be taken care by our Official Travel Agency who will give you great discounts.
<3 Tickets <3
Full Pass : Early Bird USD125 (until 31st January 2018)
Party Pass : Early Bird USD85 (until 31st January 2018)
Performance Pass : USD70
<3 Website <3
Visit www.malf2018.com for more info and tickets purchase.
*************************************************************************
Event Information : Miri AfroLatin Fiesta
Organizers : La Danza Fitness & Dance Studio Miri (Miri, Sarawak)
Official website: www.malf2018.com
Email: [email protected]
Hotline/WhatsApp: +60166370085
* More info will be updated soon
More Festivals Near Here
Discount Tickets

10% Discount on Full & Party Pass

Friday, 11 January 2019

Location:

Koh Samui, Thailand

The Fair House Beach Resort & Hotel
Friday, 18 January 2019

8 Grange Road. Orchard Cathay Cineleisure, #03-05/#03-05A, Singapore Singapore 239695
Friday, 01 February 2019

Ubud, Gianyar, Bali, Indonesia
Discount Tickets

10% Discount on Passes

Thursday, 21 February 2019

Coast Boracay - Station 2 Beach Front, 5608 Malay, Aklan, Philippines
| | |
| --- | --- |
| | Friday, 22 February 2019 |
| | |
| --- | --- |
| | Thursday, 28 February 2019 |
Thursday, 21 March 2019

Location:

New Delhi, India
Thursday, 28 March 2019

VCCI Tower, Số 9, Đào Duy Anh, Đống Đa, Hà Nội, Việt Nam, Hanoi, Vietnam 10000