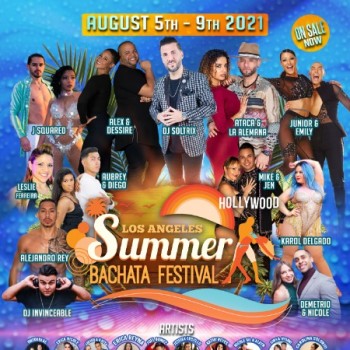 Thursday, 05 August 2021
Location:
Los Angeles, USA
Los Angeles Summer Bachata Festival: LASBF
Welcome to the Los Angeles Summer Bachata Festival, hosted at the Sheraton Gateway Hotel at LAX.
We are proud unite Bachata dance enthusiasts from around the World!
The Los Angeles Bachata Festival provides a welcoming environment of freedom, expression and fulfillment through dance. Over 3,000 dance enthusiast from all over the world gather bi-annually for an unforgettable life time experience. Discover new passions, meet new friends, network with like minded individuals and celebrate the joy of dance and life.
" It will change your life!"
Artists
https://www.lasummerbachatafestival.com/instructors
Confirmed DJs
https://www.lasummerbachatafestival.com/djs
More Festivals Near Here