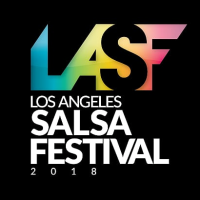 Thursday, 24 May 2018
Loews Hollywood Hotel, 1755 N Highland Ave, Los Angeles, CA, United States, 90028
Location:
Los Angeles, USA
Discount Tickets
Instructions
Go to the Tickets Page
Add the tickets to the cart
Enter the coupon code LDC
Click the Apply Coupon and you'll see the discount
Featured Video
Los Angeles Salsa Festival 2018 + $10 OFF Promo Code
THEN, NOW & FOREVER
The Los Angeles Salsa Festival has united salsa lovers from all over the world. Providing the best Latin bands, dancers and instructors of our generation. This years festival celebrates it's 20th anniversary at the beautiful Hollywood Lowes hotel (located at 1755 N Highland Ave, Los Angeles, CA 90028). Don't miss the most talked about Latin dance festival in the world.
Book your rooms & get your tickets today!
www.losangelessalsafestival.com
Confirmed Concert Artists, Instructors and Dj's for the 2018 Los Angeles Salsa Festival:
Artistas, instructores y dj's confirmado para el Los Angeles Salsa Festival 2018.
Book your rooms, teams, tickets and register today!
2018 Los Angeles Salsa Festival
May 24th-27th 2018
@The Hollywood Lowes Hotel
www.LosAngelesSalsaFestival.com
Confirmed Concert Artists/ Artistas confirmado
-Bobby Valentin y su orquesta (Fania All star legend) from Puerto Rico
-Luis Vargas (Master of Dominican bachata) from the Dominican Republic
-Domingo Quiñones (Tribute to Hector Lavoe) From Puerto Rico
-24 horas (Urban/Sensual bachata senations) From New York City.
-Conjunto Afro Son featuring Monique from Panama & Los Angeles.
Confirmed Instructors/ Instructores confirmado:
1) Johnny Vazquez- Mexico/LA/Italy
2) Francisco Vazquez- Mexico/LA
3) Luis Vazquez- Mexico/LA/Sweeden
4) Frankie Martinez- NYC
5) Rogelio Moreno- Mexico/LA
6) Robert & Isabelle- Dominican Republic/ NYC
7) Eric & Kelly Salsa Rica- Calgary
8) Junior & Emily- SF/LA
9) Imagen Latina- Venezuela
10) Alex y Mafe- Colombia
11) Liz Lira- LA
12) John & Liz Salsa Mania- SF
13) Almendra & Richie- Argentina/Chile
14) Edwin Rivera- NYC/LA
15) Eider y Marcela BNF- Colombia/Dubai
16) LyriK Cruz- Chicago/LA
17) Ismael Otero & Caribbean Soul- NJ/NY
18) Mike Diaz & Cesar Hernandez- Colombia/LA
19) Erik Muñoz & Rosemarie Cruz- LA
20) Danny & Nicole- LA
21) Andrew Cervantes- SF/ LA
22) Aubrey & Miguel- LA
23) Laura Canellias- LA
24) Josie Neglia- LA/Canada
25) Stephanie Stevenson- LA
26) Mike & Christina- LA
27) Raul & Yesenia- LA/NYC
28) Javier & Kathia- LA
29) Marcos Rosas- Mexico/ LA
30) Joby Brava- Dominican Republic/LA
Plus more!
Confirmed Dj's/ DJ's confirmado:
(Salsa)
Super Dj Robby- LA
DJ JoJo- LA
DJ Voss- LA
DJ Mambo- San Diego
DJ Charlie- LA
DJ Luis Pachanga- LA
(Bachata)
Dj Emersive- DC
DJ Vince- LA
DJ Amezcua- LA
DJ Art- LA
DJ Melo
More Festivals Near Here
Discount Tickets

$10 discount on each pass

Thursday, 17 January 2019

Wyndham Orlando Resort International Drive, 8001 International Dr, Orlando, FL, United States, 32819
Thursday, 17 January 2019

Location:

Houston, Texas, USA

945 Gessner Rd, Houston, Texas 77024
Friday, 18 January 2019

The Westin Alexandria, 400 Courthouse Sq, Alexandria, VA, United States, 22314
Friday, 18 January 2019

Location:

Pittsburgh, USA

4201 Bigelow Blvd, Pittsburgh, Pennsylvania 15213, USA
Wednesday, 06 February 2019

Location:

Honolulu, Hawaii

2255 Kalakaua Ave, Honolulu, Hawaii 96815
Thursday, 07 February 2019

6100 N River Rd, Rosemont, Illinois 60018
Thursday, 14 February 2019

Location:

Los Angeles, USA

5400 West Century Blvd, Los Angeles, California 90045
Discount Tickets

$10 Discount on Passes

Friday, 15 February 2019

Location:

Tampa, Florida, USA

4011 W Gandy Blvd, Tampa, Florida 33611