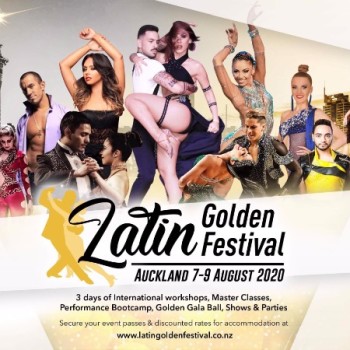 Friday, 07 August 2020
Location:
Auckland, New Zealand
Latin Golden Festival 2020
We believe dance boosts our energy levels, makes us stronger physically and mentally, more friendly, more open, more conscious, more sexy and simply happier. We live the life of our dreams by organizing the Latin Golden Festival Auckland, inviting the most amazing dancers and musicians from all over the Latin World, taking our organization to the next level and making our guests feel at home.
Our goal is to maintain the absolutely top quality of artists selection, service and facilities.
Everything we do, we do to live an exciting, international, full of people, friends, music and dance and to share this exceptional lifestyle with you.
For more information contact us or go to
www.latingoldenfestival.co.nz
We are waiting for you in 7-9 August 2020!
Alberto Juarez and Latin Golden Festival Team Latin Golden Festival is proud to announce the 3rd annual event which will be taking place on 7,8,9 August 2020. More details will follow shortly.
Facebook pages:
https://www.facebook.com/LGFNZ/
Artists
Introducing most of these International Artists for the first time in NZ
🔥 Daniel & Desiree - Spain
🔥 Adolfo Indacochea - Peru
🔥 Carine & Rafael - Brazil
🔥 Karel Flores - Mexico
🔥 Jessica Patella - Italy
🔥 Mariano & Bella - Sweden/USA
🔥 Chloe Robinson - New Zealand
🔥 Jaime Jesus - Australia
🔥 National Artists - NZ TBC
More Festivals Near Here