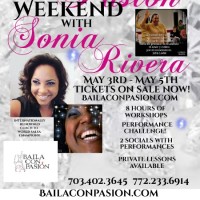 Friday, 03 May 2019
3748 Minnehaha Avenue, Minneapolis, MN, USA
Location:
Minneapolis, USA
Latin Diamond Y Pasión Weekend With SONIA RIVERA!
SONIA RIVERA is coming to the beautiful Twin Cities for the first time ever!!
You do NOT want to miss this fabulous weekend with the world renowned artist, performer, instructor, director, coach and costume designer and adjudicator!
Our weekend will include...
Private lessons
Workshops
Choreography challenge with performance Saturday night!
Social dancing with Sonia!
Register at https://www.bailaconpasion.com/latin-diamond-y-pasi-n-weekend-with-sonia-rivera-.html
#SoniaRivera #Salsa #SalsaDance #SalsaMusic #SalsaRomantica #SalsaClasico #SalsaMinneapolis #SalsaLessons #SalsaClasses #SalsaLessonsMinneapolis #SalsaClassesMinneapolis #BailaConPasion #WorldTeamProject #WorldTeamProjectMinneapolis #WorldMastery #WorldMasteryMinneapolis #ChoreographyChallenge #SalsaChallenge #SalsaWeekend
More Festivals Near Here