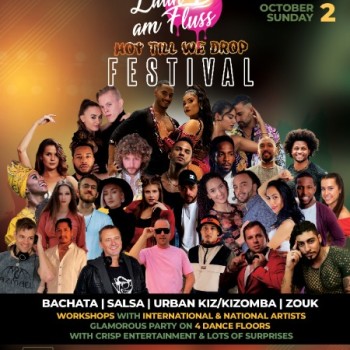 Sunday, 02 October 2022
SO/ Vienna, Praterstraße, Vienna, Austria
Location:
Vienna, Austria
Latin Am Fluss Festival "Hot Till We Drop"
LATIN AM FLUSS FESTIVAL "HOT TILL WE DROP" 🔥
It's getting "Hot"! The next Latin am Fluss Festival is coming!!! 💛
✨ 30 September - 2 October 2022!!! ✨
This time with the motto 🔥"Hot till we drop"!!!!🔥
The festival will take place in the beautiful and stylish SO/VIENNA with different dance genres on 4 dance floors....
SALSA | BACHATA | ZOUK | URBAN KIZ | KIZOMBA | SEMBA
Great international & national artists and many "hot" surprises are awaiting you!!
💛💛💛💛💛💛
What to expect?
🔶 12 hours out of 33 diverse Latin dance workshops in Salsa, Bachata, Urban Kiz/Kizomba/Semba and Zouk with professional international and local dance instructors.
🔶Glamorous parties on Friday 30 September & Saturday 1 October on 4 dance floors with many "hot" surprises
🔶 Hair & Make-up corner
🔶"Wellness & Recovery" on Sunday in a premium fitness club, including stretching session, fitness challenges, bio brunch, workshops, relaxing your bodies and souls in the pool & spa area.
📅 Date: 30 September– 02 October 2022
❤️Program & Tickets: see our website www.latinamfluss.com
📍 Location 30 September & 1 October (Workshops & Parties):
SO/VIENNA Hotel
Praterstrasse 1
1020 Vienna
Public Transportation: exit Schwedenplatz
metro: U1, U4
Tram: 1, 2
📍Location 2 October in a Premium Fitness Club. Location to be defined. Information follows.
Artists
💃🏼🕺🏼Teachers:
🔥ZOUK
Arthur Santos (Brasil/Spain), Rafael Latiff (Brasil/AT), Ronaldo & Sarah (Brasil/AT), Kadu Pires (Australia/Spain)
🔥URBAN KIZ / KIZOMBA / SEMBA
Dwe & Gaby (NL), Akram Bouchiba & Jelena (NL, AT), Felix & Undine (AT, DK)
🔥SALSA
Stefanny & Yeeremy (Columbia/Spain), Pako Bonavolta (Italy), Patrick & Veronika (AT), Relampago & Yusimi (Cuba/AT)
🔥BACHATA
Donatas & Laura (Lithuania), Fransesco & Miriam (Italy), Cheeky & Nathalie (Dom. Rep/AT), Lucio & Nora (Brasil/HU/AT)
📷Media producer:
Social Dance TV (videography), Just Juan Photo, PandaCam
Confirmed DJs
🎧DJs:
🔥ZOUK
DJ RoniZouk (Brasil/AT), DJ Kadu (Australia/Spain), DJ Latiff (Brasil/AT)
🔥URBAN KIZ / KIZOMBA / SEMBA
DJ Traybeatz (NL), DJ Azmael (AT)
🔥SALSA
DJ Patrick (AT), DJ Jhonny (AT)
🔥BACHATA
DJ Tony Pecino (Spain), DJ Andy (AT)
More Festivals Near Here