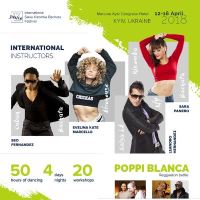 Thursday, 12 April 2018
- Monday, 16 April 2018
Vadyma Hetmana St, 6, Kyiv, Ukraine, 02000
Location:
Kyiv (Kiev), Ukraine
Up to 7% discount on Passes
Discount Tickets
Instructions
5% discount for party pass and 7% discount for passes with accommodation.
Visit the Tickets Page
For Discount on Party Pass use Voucher Code: LDC1
For Discount on Passes with accommodation use Voucher Code: LDC
★★★★INTERNATIONAL DANCE FESTIVAL KDW★★★★★ + Up to 7% OFF Promo Code
Kyiv Dance Weekend 12-16 April 2018are starting in Spring 2018! INTERNATIONAL DANCE FESTIVAL l!!!
★★★12th - 16th April 2018 in Kyiv, the center of Europe★★★
Tickets available at: https://goo.gl/tN5M86
- TOP quality instructors
- alone workshop schedule
- live concert Seo Fernandes & Leandro
- 4 big parties in unusual places
- separate kizomba, bachata and salsa floor
- and much, much, much, much more!
★LEANDRO HERNANDEZ (Cuba-Italy)
★EVELINA Kate MARCHELO (Ukraine)
★Dee REGGAETONERA (Slovakia)
Mark-Anthony & Olesia (Canada-Ukraine), Alejandro & Yuliya (Cuba-Ukraine), Reinaldo & Yuliya (Cuba-Ukraine), Paul & Anabell (Ecuador-Ukraine), Andrei & Rita (Belarus-Ukraine), Nikita & Alena (Ukraine), LenTa Dance Duet (Ukraine), Raul & Maria (Ukraine) , Elena Badzym (Ukraine), Vitaliy Pastushenko (Ukraine), Andrew Nesimoka (Ukraine)
DJ Engel, DJ Guy, DJ Marco,DJ LaKosta, DJ FlyMish, DJ Kis, DJ Teo, DJ Papi Shango, DJ Xena, DJ So What?!, DJ Said, DJ Gato
4 days , 4 nights
60 hours of dancing
30 Workshops
12 Dj's
Sightseeing excursion
Big live concert
Big show
MERCURE KYIV CONGRESS HOTEL
We are glad to please the residents and guests of the capital of Ukraine! The next international festival Dance Weekend will be held in Kiev!
4 days and 4 nights of happiness, smiles, new friendships and certainly, dances!
This time, specially invited famous instructors will conduct 30 workshops, in different styles! Among them:
|Salsa LA, Mambo, Cuban Salsa|
|Kizomba, UrbanKizz, Afrohouse|
|Bachata sensual, Bachata fusion, Bachata dominicana|
In between dances and workshops, you will have the opportunity to plunge into Ukrainian culture and visit the most significant places in Kiev.
Our dance floor and live concerts will not leave anyone indifferent!
So do not plan anything on April 12-16, 2018. We are waiting for you!
See you at the KYIV DANCE WEEKEND - INTERNATIONAL DANCE FESTIVAL!!!
More Festivals Near Here
Wednesday, 12 December 2018

Location:

Lisbon, Portugal

Rua da Cintura do Porto a Santos, Armazém J, 1200-109 Lisbon, Portugal
| | |
| --- | --- |
| | Thursday, 13 December 2018 |
Thursday, 13 December 2018

Hotel Da Vinci, Via Senigallia, 6, Milan, Italy, 20161
Friday, 28 December 2018

SCEA Chateau LAFITTE 41 Chemin du Loup, 33370 Yvrac, Aquitaine, France
Friday, 28 December 2018

Location:

Budapest, Hungary
Friday, 28 December 2018

Via Senigallia, 6, 20161 Milan, Italy
| | |
| --- | --- |
| | Saturday, 29 December 2018 |
Thursday, 03 January 2019

Location:

Helsinki, Finland